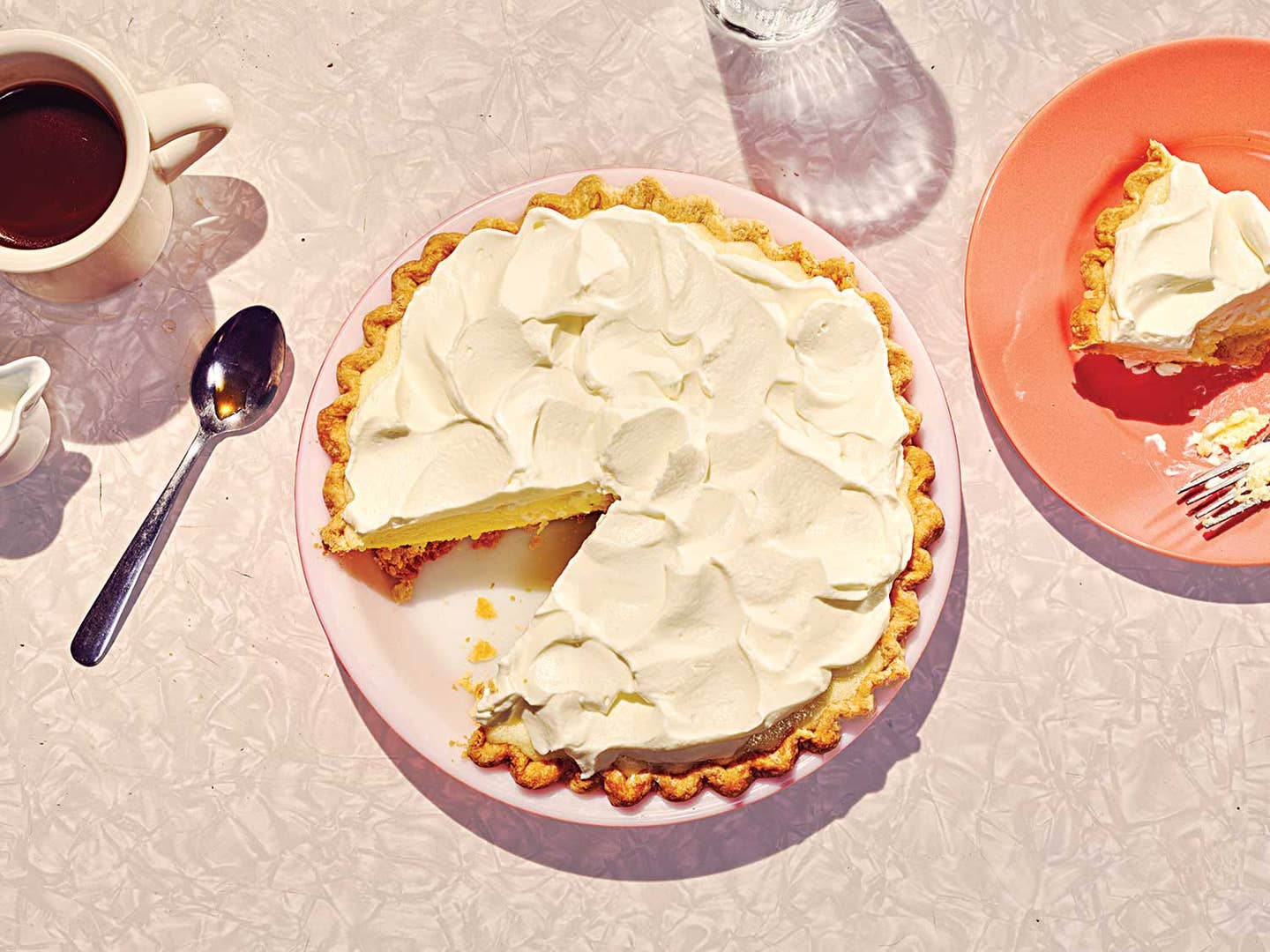 Recipes
Lemon Chiffon Pie is Nostalgic and Delicious
Recreating a 1950s diner recipe has its challenges and rewards
First, let me be clear: A lemon chiffon pie is not the same as a lemon meringue pie. You've probably had the latter—a baked custard capped with a stiff topping made of egg whites and sugar that's toasted on top. Lemon chiffon is more like a mousse: There are still whipped egg whites, but you fold them into a sweet, tart curd, making for an airier, creamier pie. Then the whole thing is topped with whipped cream. "I think it's much better than lemon meringue," my mother said recently. We were in her kitchen, with my grandmother's ­recipe laid out in front of us on the table.
Lemon chiffon was my grandmother Mary Imm's specialty at the restaurant she and my grandfather Albert owned and ran in the 1950s. It was a diner near the New Holland tractor factory outside Lancaster, Pennsylvania. They catered to the machine workers who came in droves at noon for their biggest meal of the day. My grandfather, who had emigrated from Germany just before World War II, was an expert at lunch specials—roast beef and roast ham with mashed potatoes and real gravy—but my grandmother's pie was perhaps the restaurant's greatest draw. No one knows where she got the recipe: My grandmother was the third of 11 children in a working-class family. Money was very tight and lemons would have been too expensive, the chiffon too fussy. Once she started making it at the restaurant, though, it was a hit. "I loved this pie," my mother went on. "Everyone did."
This past summer, I decided I wanted to start cooking some of my grandparents' recipes with my mother, who has half of them stashed in a tin above the refrigerator. There's something about that simple 1950s American food that appeals to me in this age of complicated restaurant cooking, however exciting. But also, my mother is in her 80s and on dialysis, and I didn't want to lose the heritage that she holds unconsciously in her hands when she's ­mixing the coleslaw dressing or making the beer-and-celery chicken broth that my grandmother used to make. We started with this pie. It had been Mom's favorite—plus, she knew exactly where in the tin the recipe was.
We assembled the ingredients: the juice of three lemons, one packet of gelatin, sugar, eggs, flour, butter, salt, and some ice water, for the crust. Making a lemon chiffon pie is not difficult, necessarily; it's just a blind-baked crust and a chilled filling. But both present opportunities to make mistakes. After we'd sufficiently burnt one crust, I started making another, crumbling the butter into the flour with my hands, like Mom said my grandmother would do, and gathering it all into a ball. My mother reached out to test it, and I noticed with a pang a bruise from her dialysis. She had spent most of her professional career as a psychiatric nurse and has always been a caretaker by nature—driving people who didn't have cars to and from prison to see their loved ones, visiting friends who were sick, taking people in when they had nowhere else to go. I have always seen this in her hands. They are old and capable and bent from arthritis, and I love them.
By the time I was born, my grandparents' restaurant was long gone, but I grew up under the influence of their food. My mother was an excellent and intuitive cook, which she likely picked up from her parents. She learned to make their slaws, roasts, and potatoes au gratin. And even in the '70s, when the health food craze took over, the grainy salads and quiches she made from the same cookbooks all her friends were using still tasted better under her care. But when my grandparents came to visit, the atmosphere in our kitchen completely changed. It was like everything went back in time. The house would smell of pepper, celery, and garlic. And the kitchen would be full of the sounds of my grandfather chopping, and my grandmother peeling and talking with my mother about people she knew and the trouble they'd gotten themselves into. I loved the smells, the food, and more than anything, the gossip.
We started on the custard, juicing the lemons, then ­tossing the fragrant zested peels into some sugar. We smelled smoke. We'd burnt the crust slightly—for the ­second time that day. "It was such a beautiful crust too," Mom said. I said it was okay. I like a burnt pie crust.
"It should be like a mousse the whole way through," my mom said as we finished the custard. "No separation." We gently folded in the egg whites, which we'd already whipped into stiff peaks. We talked a little about my Aunt Weezie's back pain, the strangeness of climate change, how much I love a cleared-out room to write in, how much Mom loved working with schizophrenic patients when she was a nurse. We talked about children; both of mine are becoming teenagers, and it's so hard, sometimes, to feel them pull away from you and harden a little—especially when you remember what open, bright lights they were when they were small. "But you know, that comes back," Mom said. "You just have to keep looking at them as the person you know that they are."
I tipped the mousse into our burnt crust, smoothed it into the creases, and dolloped the whipped cream on top. Mom wrote down a copy of the recipe on an index card for me, using the same tidy cursive I've seen forever on ­Valentine's Day cards, letters, checks, and doctor's notes. At the top it read, "Mary Imm's Lemon Chiffon Pie." Oh, I thought, what will I do when you're gone?
My dad came in from working in the yard, smelling like dry leaves and wind. "We burnt the crust," my mother said.
"That's all right," said my father. "I like a burnt pie crust." We sat down to eat at the kitchen table in the house I grew up in. Despite the too-dark crust, the pie was delicious—light and fluffy, a tangy combination of sweet and sour.