The 2016 Saveur Blog Awards Take Over New York
Pasta-making, hog-butchering, and plenty of partying with our winners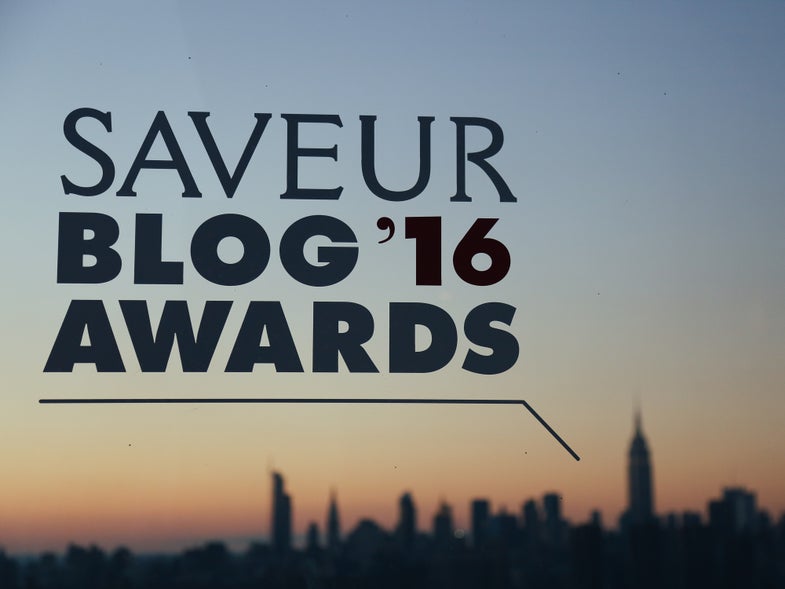 This weekend, food and lifestyle bloggers from around the country and across the world converged on New York City and the Saveur office for two days to receive awards, mingle, and eat a lot.
The celebrations began with breathtaking views and cocktails at a welcome reception in the exclusive Vale Garden Residence at Williamsburg's new William Vale hotel, and the next morning, bloggers had the chance to attend workshops throughout the city. Some learned about craft butchery with Fleisher's and The Brooklyn Kitchen, others made pizzas from scratch with Emily, and the rest rolled out beautiful pastas with Covina.
Next, the bloggers checked out our brand-new renovated space for lunch and a wine tasting. Following lunch was a panel that included Cherry Bombe's Kerry Diamond, Alan Sytsma from Grub Street, and Saveur's Max Falkowitz. Editor in Chief Adam Sachs directed the conversation, which ranged from pitching stories to the challenges of balancing social media and personal branding with a blogger's many other daily tasks. In the afternoon, bloggers split off into groups again, attending a tour of the Edible Schoolyard in East Harlem, a recipe testing session at Saveur's kitchen, or a Q&A with cookbook editors, including Angelin Borsics, editor at Clarkson Potter; JJ Goode, a writer and cookbook author; Maria Guarnaschelli, executive editor at W.W. Norton; and Holly La Due, acquisitions editor at Prestel Publishing.
The celebrations concluded back at the Westlight bar at the William Vale, where Chef Andrew Carmellini provided food (for both nights), and Sachs announced the winners for each category. Congratulations to all finalists and winners, and we look forward to seeing what next year brings! Read more about this year's winners here.