The 2017 SAVEUR Gift Guide: Edible Gifts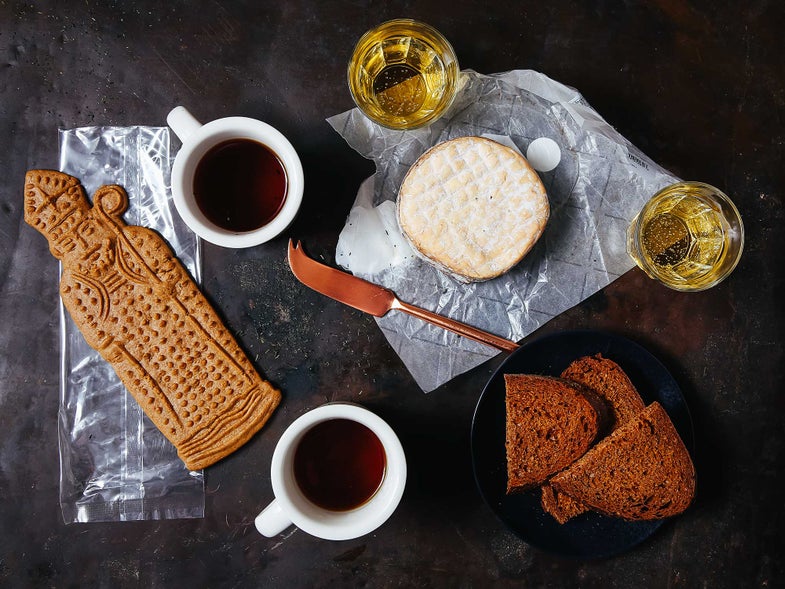 Luxe cheese wheels, 25-year aged balsamic, perfect bonbons, and gingerbread like no other. Food gifts for every hungry person on your list.
Started by a homesick Belgian transplant, Evy Ballegeer, The Little Belgians Co. specializes in speculoos: decorative European holiday cookies that walk the line between shortbread and gingerbread. Balladeer's version comes in a variety of whimsical shapes–from tiny cyclists to giant Saint Nicks–and the generously spiced rich dough is every bit as addictive as homemade. Give a Speculoos S'Mores kit (complete with Tcho Chocolate and fluffy vanilla marshmallows) to a friend with a fireplace this holiday season, and don't forget to order a few boxes of the original for yourself.
Premium French chocolate company, Valrhona, has been the preferred brand of pastry chefs and confectioners for decades. The bulk of Valrhona's products ends up in professional kitchens, however its snacking bars and superb baking chocolate is increasingly available in gourmet shops and at Whole Foods.
Worth hunting down this holiday season are Valrhona's gift options, particularly these new, beautifully wrapped boxes of assorted bonbons. With candied fruit, nuts, and lots of silky chocolate ganache, they are the perfect stocking stuffer for all the chocolate snobs in your life.
This beautiful, festive cheese is produced by Vermont cheesemakers Andy and Mateo Kehler of Jasper Hill Farm, then finished in the aging caves at Murray's Cheese in New York City. Greensward was originally developed for Eleven Madison Park's 2011 "Iconic New York" menu. Fortunately for the rest of us, the award-winning wheels are now available through Murray's online shop. Greensward gets its apricot-colored rind from several washings in a cider-based brine; similar in style to the late-season Swiss classic, Vacherin Mont d'Or, it comes wrapped in a strip of spruce cambium to contain its molten, savory, fruity paste.
The airtight packs of this Berkshire pig jowl beckon test kitchen director Stacy Adimando weekly from the meat counters at Eataly in New York. From Blackberry Farm, a farm-focused estate resort in the Great Smoky Mountains of Tennessee, this one is cured with salt and sugar and slathered with the perfect amount of spices—not too much to mask its smoky, porky taste, but the right amount of kick to complement pasta dishes or greens.
It might be a little weird to give cheese to someone as a gift, but this cheese is unique and special and you can use it on everything. Pecorino Sardo is an aged, hard sheep's milk cheese from the Italian island of Sardinia that's made with milk from the local flocks. A little milder, more buttery, and less salty than Pecorino Romano, it's also lightly smoked. It's used in traditional Italian pestos, is great on cheese plates, and tastes phenomenal blanketing spaghetti with olive oil and lots of black pepper.
We've tasted hundreds of pricy balsamic vinegars, but none seem to stand up to Oliver. Unlike some other thin and bitter bottles, the aging process here accomplishes a thick consistency and a rich, mature flavor. And it's completely affordable as a gift. (Hint for the holidays: it's delightful poured over ice cream.)
For the budding tea fan exploring the world of green tea beyond the bag, this sampler from 300-year-old Kyoto mainstay Ippodo is a strong start. The pretty gift box contains 20-gram canisters (save for the larger-leaf houjicha, which weighs in at 10) of five essential Japanese tea styles: verdant matcha, premium shade-grown gyokuro, sweet-savory sencha, and toasty genmaicha and houjicha.
The best crackers we've ever tasted. Wafer thin and full of cheesy, umami intensity, you'll strain your eyes scouring the ingredient list for the parmesan that must be there. There is none. But there is butter, and olive oil, and sea salt to amplify the twangy taste of the sourdough starter that goes into these crackers, which are shatter-crisp with a hint of layered flakiness, yet sturdy enough to withstand a schmear of chevre. Despite those fatty additions, the crackers don't film your fingers with grease the way, say, Ritz do, and for all their I need to eat another 20 of these right now deliciousness, they don't upstage the cheeses and nut butters we've paired them with. They are simply the perfect crackers.
For any pesto-lover, some of the best is from Roberto Panizza, one of the world's great pesto experts, a restauranteur and the creator of the Genoa Pesto World Championship. Fortunately, even if you're not in Liguria, you can buy his pesto straight from the source, then brag about how your pasta is more authentic than anyone else's.
If you have a fish-loving friend, get them a few boxes of high-class tinned fish from Jose Gourmet. They have everything from sardines and mackerel to tuna and trout, and you can get them preserved in olive oil, olive oil and lemon, or even tomato. An added bonus: the boxes are much cuter than your average canned fish. Break them out any time of year for an impromptu tapas party.
Ground Up is a small company based in Portland, Oregon. They make nut butters of all kinds, very lightly sweetened with local honey, and in flavors that are interesting and addictive (cinnamon snickerdoodle, chunky almond cashew coconut, and coconut cardamom with chia seeds all disappeared instantly). The packaging is pretty, too. Aside from being perfectly delicious (small batch, artisanal, all of those things people love), the company does serious good for their local community. Ground Up offers an employment training program for homeless women in the Portland area, giving women the tools they need to transition into longer-term and more stable employment. Every jar sold goes toward helping a woman improve her life.
Who doesn't like gelato? And wouldn't a beautifully wrapped box of various flavors be a nice gift (to give or receive)? Nancy Silverton's gelato is undeniably delicious, and it isn't available everywhere (which makes it feel a little extra special). Just in time for the holidays, they've started delivering nationwide. Now you can treat someone, or yourself, to delivery of some of the best gelato on the market. The Fancy Flavors Collection is a perfect gift: 9 mini containers, all different flavors, with bright and happy packaging, all wrapped up in a perfect bow.
Pretty much anything from fruition chocolate is going to make a good gift. The company makes award-winning, thoughtful (aka fair trade, organic), and beautifully packaged bars, caramels, and various chocolate-covered treats. There's basically no bad choice.
Any cheese is always a good gift, but Cowgirl Creamery's 20th anniversary collection is extra special. The collection includes three of Northern California's greatest hits (which you've likely had or heard of plenty of times): Cypress Grove's Humboldt Fog, Cowgirl Creamery's very famous triple cream Mt. Tam, and the Toma from Pt. Reyes Farmstead Cheese Company, plus olive oil and sea salt crackers.