The 2017 SAVEUR Gift Guide: Kitchen Tools We Love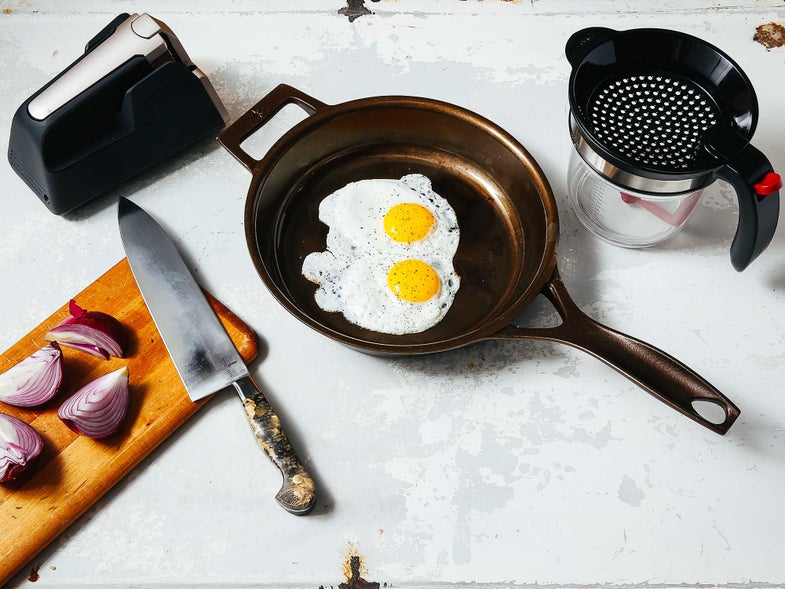 Whether you're shopping for a seasoned home cook or someone just getting started, here are our favorite kitchen tools they'll actually use.
Jessica Sennett created the Cheese Grotto as a way for casual cheese-lovers to care for their cheeses in the same way the specialists do—with regulated humidity and ample breathing room. The Fresco, a smaller model, is designed to take up less place in the fridge than the original, and the organic birchwood construction is nontoxic, and resistant to mold and stains. A moistened brick on the bottom shelf ensures the cheeses, which are living things after all, thrive in the proper environment.
Most of the machines in an industrial kitchen are fitted with giant motors, thick blades, and heavy-duty gearing that can withstand grueling daily use. Once you get used to working with restaurant equipment, it can be tough to make the switch back to your grandma's rinky-dink blender. A Vitamix will quickly become an essential part of your frozen margarita-mixing, soup puréeing, mayonnaise-making life. If you're looking to give the gift of stress-free blender drinks or if you just want to upgrade your own nut milk skills, stop replacing the same $50 machine every two years and invest in the real deal.
A countertop convenience designed to function like an industrial belt sharpener. It has three settings to "shape," "sharpen," and "refine" edges with a built-in timer that runs only as long as it needs to, and the guides that run along each side ensure the knife is placed at the proper angle. The set comes with a ceramic honing rod too, to improve the life of your knives.
Know a hardcore ice cream lover? This is the splurge they'll go crazy for: a semi-pro ice cream machine that can churn batches back to back to back, no waiting for a churning bucket to harden overnight in the freezer. Breville's upmarket model offers lots of granular controls, but its bottom line is simple: perfectly creamy ice cream with a dense, rich texture, every time.
A tableware design veteran set out to remake the clunky, frozen-in-time cast iron skillet, and Stargazer pans were born. With a forked handle that stays way cooler for longer, a pour-friendly rim, and a weight that's around a full pound lighter than other skillets of the same size, it's our new favorite. It's also a gift that will literally last a lifetime.
This elegant, American-made chef's knife from the bladesmiths over at Town Cutler is a true knife nerd's knife. Its carbon steel blade requires a bit of babying—left wet or dirty, it will most definitely rust—but if you're willing to show it some love, it will reward its owner with a superfine, superdurable edge. The nickel bolster and brass fasteners are built to last, and the ergonomically-designed stabilized wood handle is comfortable and secure in a variety of grips.
Whenever food stylist Mariana Velasquez is in the SAVEUR Test Kitchen for a photo shoot, she would show up in the most adorable apron she designed herself. Now she has her own site where various colors and patterns are for sale, making the perfect gift for any stylish home cook.
Mac Kohler and Lane Goldstone, the team behind Brooklyn Copper Cookware, firmly believe that copper is the essential unadorned kitchen tool. "It's reducible to the stuff of the universe," Kohler says, "it's the apogee of the expression of a pan." They source all their metals from small American companies, and from intimate connections they've carefully fostered over the past several years. The pots are all spun, assembled, and wiped with tin by hand, and the great joy of cooking with them is that they continue to adapt to your use over time.
A defining piece of the midcentury-mod kitchen, Dansk's line of Kobenstyle cookware is a classic worth reviving. Made of thin cast steel and coated in enamel, it functions perfectly as a braiser with a fraction of the weight of cast iron. The elegant lid also doubles as a trivet for stovetop-to-table service.
Yes, you can absolutely use a spoon to painstakingly separate the turkey fat from the pan drippings with a spoon. But someone invented a more efficient way of doing it a long time ago and it's well worth the cost. Bite the bullet already, particularly with this model which subs out the pour spout (and the accompanying risk of spilling fat out the top) for an easy-release valve on the bottom of the cup. Trigger it on the handle, then let pan juices stream out the bottom.