38 Unexpected Thanksgiving Desserts
Why limit yourself to pumpkin pie for dessert when there's endless options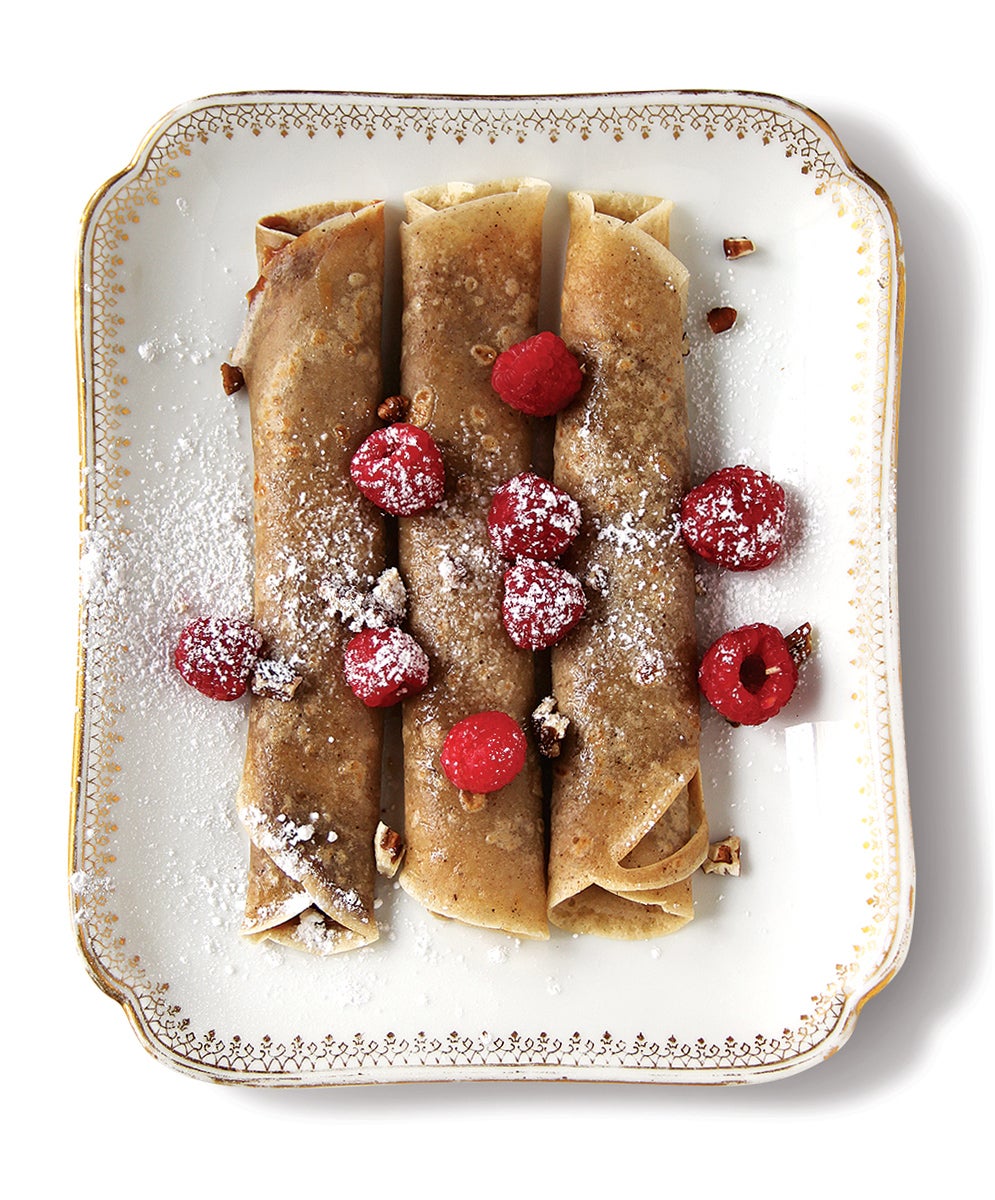 Think outside the pumpkin pie this year as you plan the sweet side of your Thanksgiving feast: Guests will delight in any of our seasonal desserts, from sweet potato cake with marshmallow meringue icing, praline sauce, and candied pecans, to pears poached in spiced port wine, to a simple but elegant maple pot de crème.
Cajeta, a homemade caramel used in traditional Mexican desserts, is a terrific sauce to have on hand for drizzling over ice cream or baked treats.
Packed with coconut and pecans and covered in cream cheese frosting, this cake is a specialty of Georgia home cook Cile Ellis.
Like many traditional Emirati desserts, luscious pumpkin porridge (in Arabic it's a halvah, or sweet food) straddles the line between sweet and savory. The dish thickens as it cools, so be sure to serve it while it's still quite warm.
Use up leftover pumpkin or squash puree in a sweet, spiced ice cream.
Layers of spiced sweet potato cake alternate with marshmallowy meringue icing in a rich dessert that's a riff on the classic Thanksgiving side.
All the traditional flavors of pumpkin pie combine in this satisfying, creamy mousse.
Rum and gingersnaps add a spicy, warming flavor to this rich fall dessert.
Serve this spiced ice cream on its own or scooped on top of warm fruit crisps, cobblers, or pies, particularly apple or pumpkin.
The dessert's delicate texture is achieved by cooking the cheesecake in a bain-marie, a water bath made by surrounding the springform pan with boiling water.
The silky, custardlike base of this autumnal pie is made from sweetened navy bean purée spiced with nutmeg, vanilla, and cinnamon.
A dense, pudding-like pumpkin bread makes a rich and satisfying dessert. Use leftover butternut, acorn, or pumpkin squash purée.
Creamy custard sweetened with maple syrup makes a lovely ending to any meal.
Applesauce adds moisture and sweet apple flavor in a lovely cinnamon-spiced, autumnal cake.
This satisfying dessert uses piloncillo, a type of brown sugar used in Mexican cooking.
Roasted pears stuffed with almonds, currants, and raisins make a simple yet elegant dessert.
Shredded carrots turn soft and sweet in this cardamom-spiced rice pudding.
This batter also makes delicious muffins, perfect for a day-after-Thanksgiving brunch.
For this striking two-toned dessert, alternating layers of snow-white and mahogany-brown spiced cakes are sandwiched with a rich, chocolate fudge icing and decorated with walnut halves.
A spiced, autumnal ice cream that tastes like the essence of apple season.
A welcome addition to the holiday table, this simple frosted layer cake can be made with either canned or homemade puréed pumpkin.
This recipe, from Fore Street restaurant in Portland, Maine, calls for using six 4″ steel blini pans. But you can make a single cake in an 8″ cast-iron skillet, if you prefer. If fresh or frozen cranberries aren't available, use reconstituted dried berries.
There's nothing like homemade rice pudding—creamy, sweet, and comforting. The brown sugar lends a caramel-like sweetness, while cinnamon and rum-soaked raisins add warmth and depth.
This sweet-tart conserve is a luscious accompaniment to ice cream. It also adds a fruity dimension when stirred into champagne.
This variation on a classic French pound cake, in which ingredient quantities are determined by relative weight, uses olive oil instead of butter for a light, fresh flavor. The recipe was developed by SAVEUR contributor Nancy Harmon Jenkins, who recommends using a Polder Kitchen Scale for accurate measure.
Apples roasted in wine and butter are a staple of holiday markets throughout Germany.
A supremely moist, boozy Southern bundt cake fitting for any holiday spread.
Dough studded with dried cranberries and a drizzle of sweet, cinnamon-spiced glaze take oatmeal cookies from ordinary to perfect.
This twist on traditional pecan pie provides a snack-able ending to any holiday feast.
In this version of the classic English dessert, adapted from one in Rose Levy Beranbaum's Rose's Heavenly Cakes (Houghton Mifflin Harcourt, 2009), dates are soaked in stout beer and then pureed, resulting in a super-moist crumb.
Replacing bread with chocolate spice cake adds richness and dark chocolate flavor to this pudding.
The gooey filling in this tart is held together by a rye flour crust that gets its structure, and depth, from chocolate.
The warm flavor of maple syrup enhances rich dumplings in a super-simple, comforting dessert.
Ken Smith, the executive chef at Upperline restaurant and an avid home baker, often serves this spiced, cane syrup-sweetened cake. On special occasions such as Thanksgiving and Christmas he pairs it with a sauce made from satsumas, a clementine-like citrus fruit that grows in Louisiana and is available in the late fall.
Impress your guests with a show-stopping layer cake stuffed with a luscious custard filling and topped with meringue frosting.
Serve this simple, elegant ice cream with fresh fruit or on top of warm bread pudding.
Fuji apples hold their shape perfectly when baked and coated in caramel.
Vanilla ice cream makes the perfect topper for a warm, molasses-sweetened Indian Pudding.
This Mexican take on a Cajun-style bread pudding is studded with cubes of squash and plump raisins.