5 Sauces and Condiments to Use on Everything
Bring the DIY pantry into your kitchen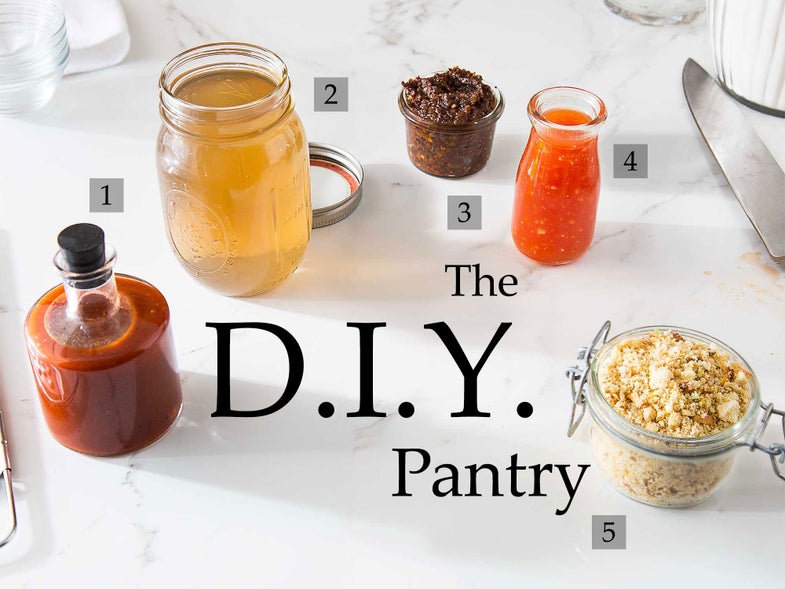 Spooning a heap of zesty homemade chile sauce onto leftover chicken, sprinkling some spicy, crunchy bread crumbs onto a bowl of pasta—these are the tiny tweaks that add gusto to easy, everyday cooking. Make these chef's staples and keep them on hand, so you're only a flick of the wrist away from a full-flavored meal.
1. Sean Brock's BBQ Sauce: Our favorite barbecue sauce, from Southern chef Sean Brock, is great for marinating chicken or shrimp before it hits the grill, slathering on slow-roasted meats for a vinegary kick, or whisking into vinaigrettes.
2. The Perfect Vegetable Stock: From Tal Ronnen, L.A.'s best-known vegan chef, comes a rich vegetable stock that rivals chicken or beef. Keep a few quarts in the freezer for soups or root vegetable braises.
3. West African Chile Paste: We got turned on to this spicy condiment, known as shito, by Senegalese chef Pierre Thiam. It's a staple in West Africa, with a nuanced funk and layered flavor buttressed by fermented fish powder and smoked dried shrimp, that blows sriracha out of the water.
4. Thai Sweet Chile Sauce: This sweet chile sauce from Dan Holzman, of New York City's Meatball Shop, gets its heat from Thai chile and its sweetness from ketchup and sugar. Drizzle onto fried foods, whisk into creamy dips, or mix into stir-fries.
5. Spicy Bread Crumbs with Citrus Zest (Pangrattato): Portland chef Jenn Louis adds jalapeño, ginger, and citrus zests to her pangrattato, an Italian bread crumb mix. She sprinkles it on tender gnocchi for a bit of crunch. We like to shower it over mac and cheese or creamed spinach, or use it in lieu of plain bread crumbs when breading chicken.