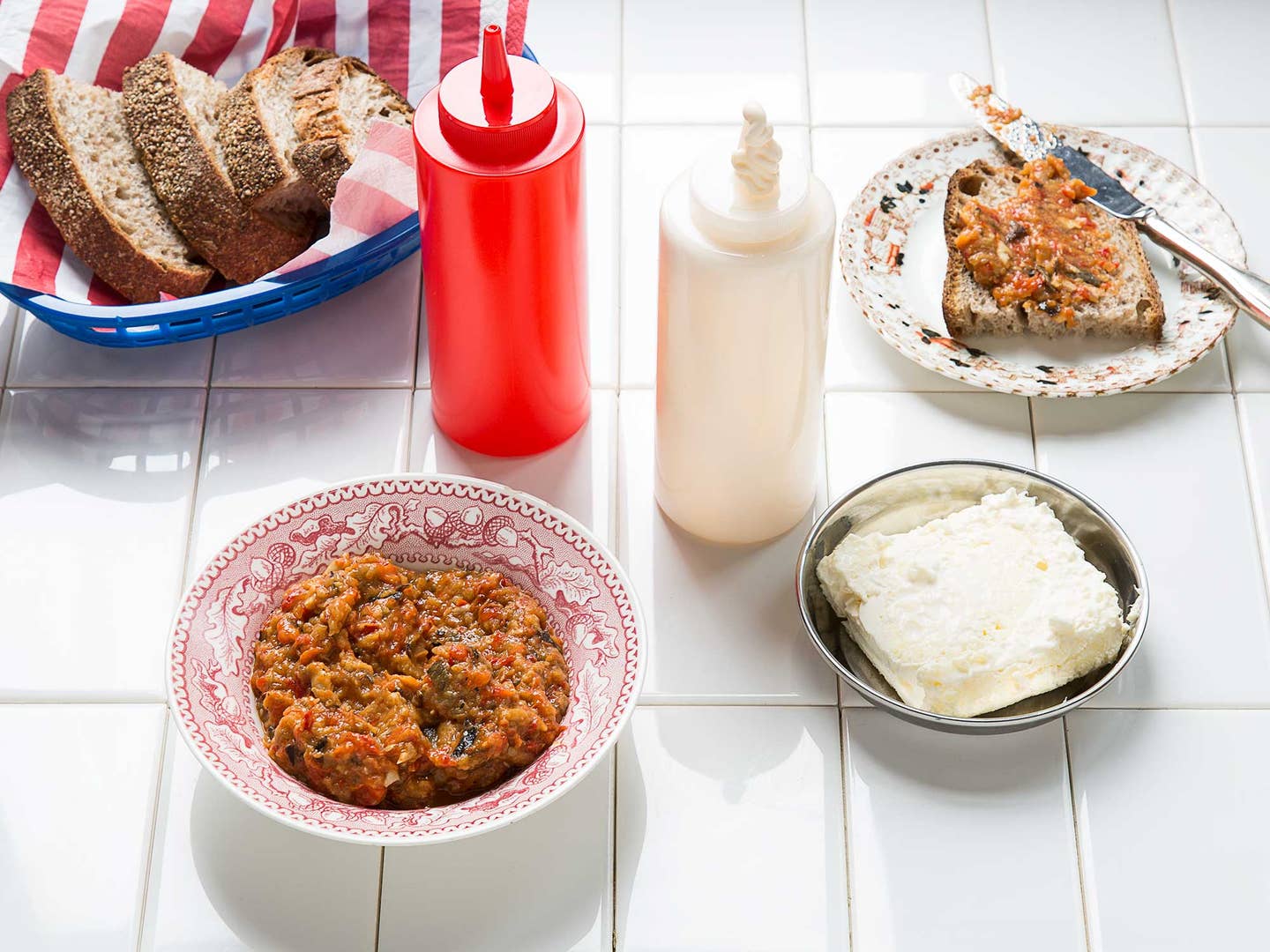 Recipes
International Schmear: The Ketchup and Mayo of the Balkans
Slather peppery ajvar and creamy kajmak on your next burger
"Balkan meats never get served without ajvar," says Tim Wiechmann, the chef of Playska, a Balkan-inspired sandwich shop in Boston. He means dishes like cevapi, stubby cigars of ground pork, or pljeskavica, a hubcab-sized burger-like patty of ground pork, beef, and lamb served on a massive bun.
"Ajvar is most certainly a precursor to, and fulfills the same function taste-wise, as modern ketchup," Wiechmann says. "At the end of a harvest, peppers were cooked down and preserved." The slow cooking lends them a tomato-like sweetness, and as with ketchup, ajvar's piquant acidity perfectly livens up the hearty meats and sausages found throughout Croatia, Bosnia, and Slovenia.
If you want to learn about a region's cooking, look to their condiments. Imagine a Vietnamese restaurant without fish sauce and chile paste on the table. Or an American diner without ketchup and mayo close by. You can't; brand preferences may be up for debate, but nothing ties a culture together quite like what they squirt on everything else.
At Playska, Wiechmann evokes that Balkan connection by broiling red bell peppers and eggplant until they're charred and meltingly soft, then whizzes them up with raw garlic and plenty of olive oil. He spreads the paste on bread alongside cucumber pickles and a bacon cream cheese remoulade, all flavor bases for one of those pljeskavica patties. It also livens up a fatty cake of pig's head meat mixed with potato, alongside some admittedly un-Balkan pickled pineapple.
Though for the traditional Balkan sandwich, ajvar is only half the story. The pepper paste is is the region's ketchup, but kajmak is its mayo.
Effectively an extra-rich, slightly tangy clotted cream, kajmak gets made with milk from water buffalo, goat, or sheep. But whatever the mammal, the goal is the same: a luscious, irresistibly dense blast of dairy to spread on grilled meat or stir into soups.
"I've tried to make kajmak and failed," Wiechmann says. "I don't have the secret Serbian grandmother to show me how to do it." Instead, he makes cream cheese and yogurt remoulades, fatty, flavorful spreads that balance out ajvar's lean sweetness.
In Queens, New York, at Cevabdzinica Sarajevo, Bosnian owner Ifeta Huskovic takes the opposite approach. "We don't have the space to make ajvar," Huskovic says of her small, 15-year-old kitchen space in Astoria. "But I do make the kajmak. I start with Bulgarian feta," she says, "but the rest is a secret." Huskovic hails from Sarajevo, where she ran a cevabdzinica (a restaurant specializing in grilled meat) from 1976 until she moved to New York. "It was the same sort of fast food," she explains, "but we just sold Bosnian sausages. In my country, in my city, we usually serve cevapi with kajmak and onions." But, in Astoria, a neighborhood with a diverse Balkan population, people started asking for ajvar, too. So Huskovic buys it from local markets.
Huskovic wouldn't budge on that secret recipe, and other devout kajmak-makers will admit there's a knack to it, so if you have a Balkan market nearby, seek some out there. Look for homemade versions, which some markets offer, that lack the gummy stabilizers found in more commercial products. You can also find it online.
You can buy ajvar too, but it's a cinch to make, and Wiechmann was more willing to share his recipe with us. Use it—and some kajmak—on some homemade cevapi. Or add them to your next burger and fries. These condiments travel.