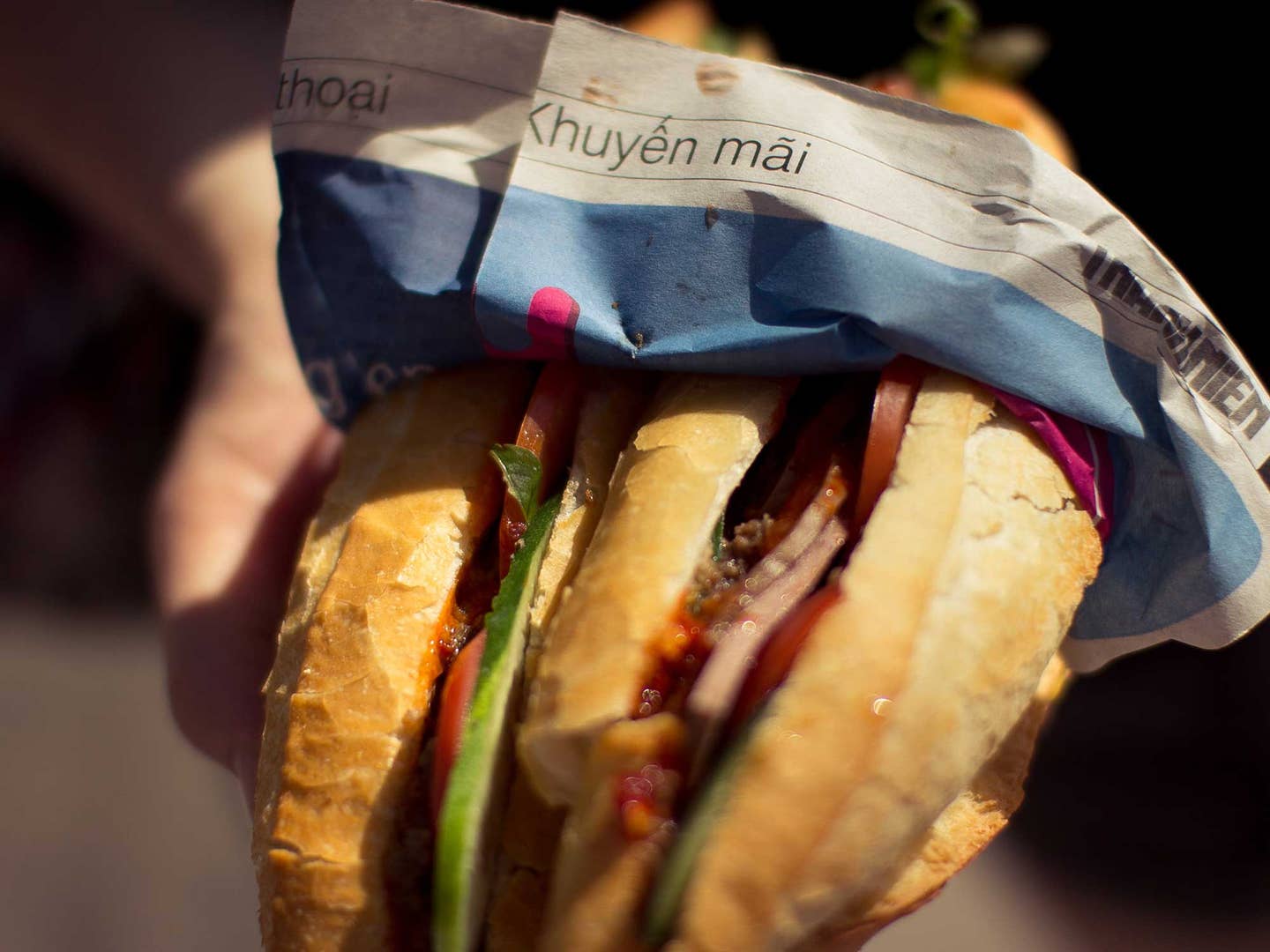 Culture
And America's Hottest Sandwich Is…
Vietnam's beloved banh mi is appearing on American menus five times more frequently over the past four years
As a genre, "fusion food" may now be passé, but one of the world's most iconic fusion foods, Vietnam's bánh mì, has just been named the hottest sandwich in America. An obvious byproduct of French colonialism in Vietnam, the sandwich nestles an at-first-glance odd array of ingredients—Vietnamese grilled or cold-cut pork, pickled carrots and daikon radish, cilantro, and fresh mayonnaise—in a sliced-open, toasted baguette.
As first reported by Money, researchers at Datassential made the discovery by surveying and aggregating menus at thousands of both family-run and chain restaurants across the country. Four years ago, the same survey found that the Cuban was the fastest-growing sandwich, a trajectory that has since slowed as it now appears on over a quarter of menus in the study's dataset.
The researchers believe the bánh mì's growing popularity can be attributed to a few factors, including a tendency for millennial diners to seek adventure when eating out, and the fact that the sandwich's ingredients are more or less recognizable to the majority of American palates—placing it in a category that the industry calls "safe experimentation."
Whatever the reason may be, it's interesting to see the bánh mì, once a fringe item enjoyed mostly within Vietnamese communities, make such a dent in America's culinary lexicon. And it's not alone: as American palates change and develop, a number of other immigrant contributions—Mexican tortas and Middle Eastern shawarmas have both grown by more than 50% since the last survey—are also making headway on American menus. These are some serious challenges to the reigning sandwich, the classic grilled chicken, which is down 10% in the last four years.
Haven't tried bánh mì yet? You can make your own with our recipe.