British Dessert Recipes
Check out great British desserts, from toffee to trifle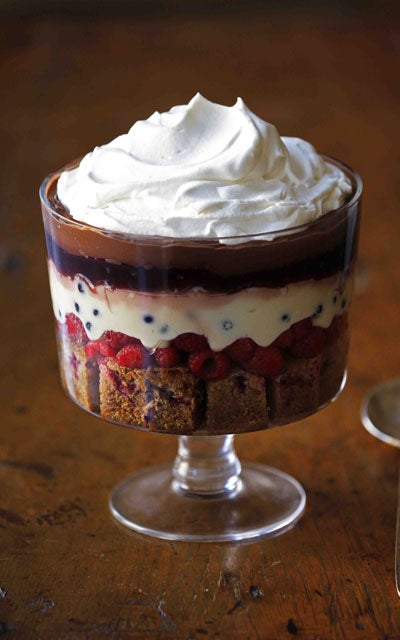 Great Britain is full of delicious food. We especially love British desserts, from toffee to trifle. We've rounded up our favorite British dessert recipes for you to try out.
The name spotted dick might elicit giggles, but it's a wonderful dessert. This rich steamed pudding is laced with currants. A simple custard sauce makes the dish even more decadent.
A traditional trifle features layer upon layer of ginger cake, custard, berries, chocolate, and cream, all drenched in sherry and kirsch. Making it takes some work, but you're rewarded with an elegant showstopper perfect for holiday entertaining. For a simpler raspberry dessert, try layering almondy shortcakes with strawberries and whipped cream.
Treacle is the British term that refers to a variety of syrups, such as molasses and golden syrup. It's the heart of our treacle tart—a buttery shortbread crust filled with golden syrup, bread crumbs, and lemon zest. It's a sweet, beautifully simple dessert.
You can't talk about British desserts without mentioning toffee, a candy made caramelized sugar and dairy. In banoffee pie, toffee is layered with sliced bananas and whipped cream on a crust made from digestive biscuits (semi-sweet British cookies). Or make toffee pudding—dates soaked in stout give this dessert an super-moist crumb, and a toffee sauce takes it to the next level.
Find all of these dishes and more in our collection of British dessert recipes.