10 Wonderful Ways to Cook with Blueberries
To make the most of the juicy, tart fruit, look beyond muffins and pies.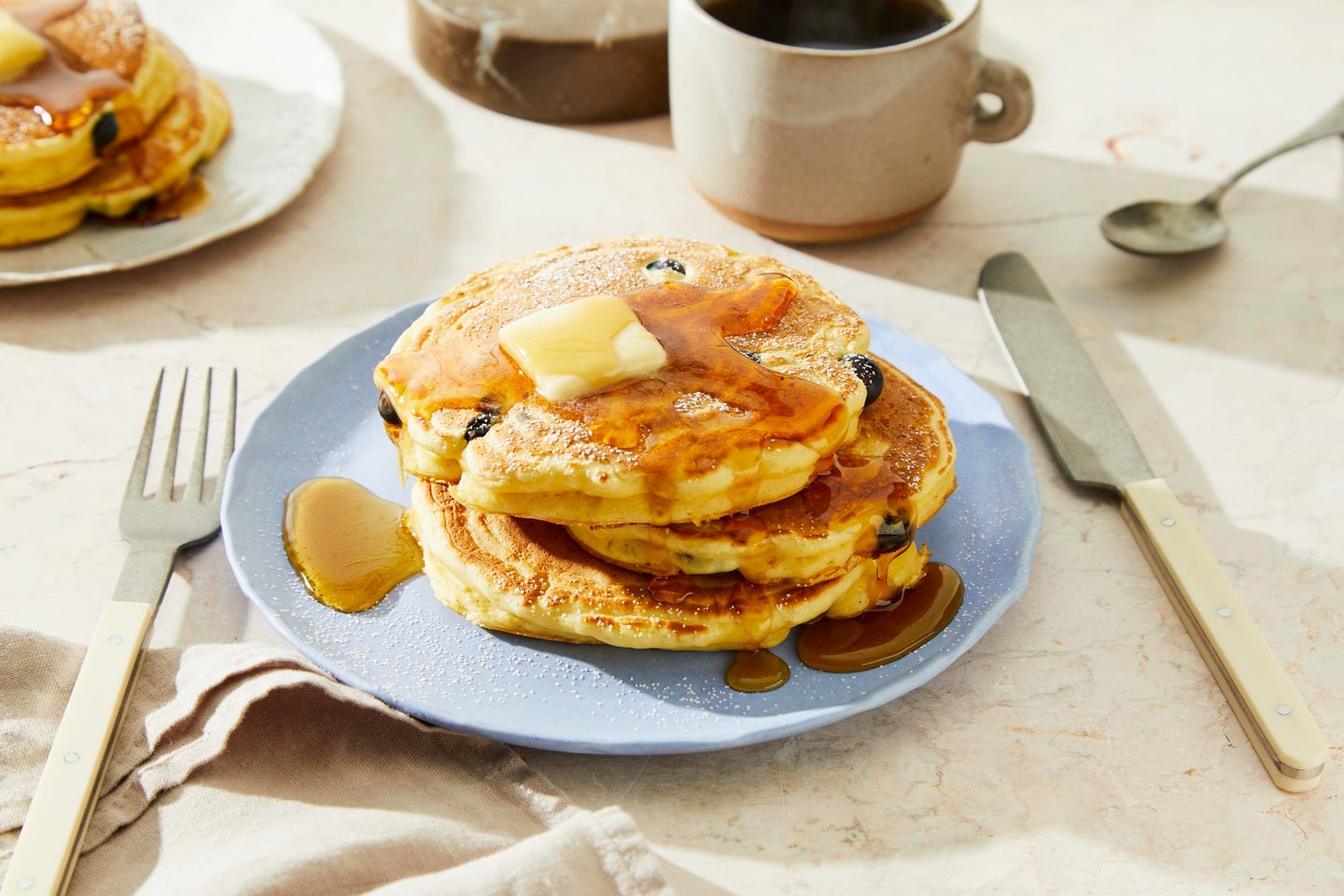 Summer is a scoop of vanilla ice cream cloaked in warm blueberry sauce. It's purple lips, caked with butter crust crumbs and sweet pie filling. It's blueberries bursting through cold whipped cream—nothing more, nothing less—devoured greedily at the kitchen counter after everyone's gone to sleep. Summer, in our utopian fantasy, is one long and languorous blueberry-filled fever dream.
Long after blueberry season (roughly May to September) wanes, we keep summer alive with frozen blueberries, which stud our cakes and muffins and pancakes year round—and sing in finger-licking sauces like blueberry barbecue and sweet-and-sour ketchup. An aside: Frozen berries must be folded into batters while still frozen, lest they melt into an unwieldy goo, discoloring your dessert and throwing the moisture content out of whack.
 Whether you're shopping for fresh or frozen blueberries, keep an eye out for the tiny low-bush variety (sometimes marketed as wild Maine blueberries) native to New England and Canada. Their tart, intensely fruity flavor trumps that of their plastic-container counterparts. But if the little guys are nowhere to be found, don't sweat it: Unlike, say, supermarket tomatoes, blueberries almost always taste terrific, no matter their type or origin.
Muddled sage adds woodsy freshness to this blueberry vodka and white cranberry elixir. Get the recipe >
Our go-to blueberry pie recipe hails from the Alaskan wilderness, where the berries (locally known as kyäni) are picked at their sweet-and-sour prime. Get the recipe >
Our favorite blueberry pancake recipe incorporates seltzer for fluff and yogurt for tang. Get the recipe >
Fresh blueberries, lemon zest, and plenty of butter make these muffins far superior than anything you can buy at the store. Get the recipe >
Granola and quinoa make these giant, fluffy pancakes from Chicago's Dove's Luncheonette unequivocally healthy. Or at least that's what we tell ourselves as we go back for seconds and thirds. Get the recipe >
This zippy blueberry sauce makes a refreshing drink when mixed with club soda or booze, but you can also slather it onto roast meats or use it as the base for a fruity vinaigrette. Get the recipe >
Braised ruby red cabbage with warm spices, fruit, and jam is an Icelandic Christmas side dish that we like cozying up with when the temperature dips. Get the recipe >
The Carolina Blues follows the classic Tom Collins blueprint but swaps simple syrup for shrub, soda for prosecco, and lemon juice for lime. Get the recipe >
Sweet and smoky blueberry chipotle ketchup is a terrific sidekick to all things grilled; try painting it like barbecue sauce onto chicken legs and portobello mushrooms as they cook. Get the recipe >
We'll never knock a soupy blueberry filling—the more sauce for our vanilla ice cream, the merrier—but there's something to be said for the photo-ready slices of this summery pie, which relies on instant tapioca as a thickener.