Recipe Comix: A Meat Vacation at Memphis in May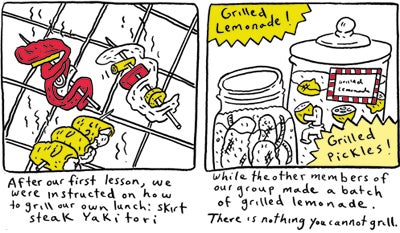 "Draw us a recipe." That's the brief we sent to a slew of our favorite comic artists; each week, we're thrilled to present what they sent back. The resulting works of art are fantastic, beautiful, hilarious, thoughtful, informative, and often all of the above — and they prove that a recipe doesn't just have to be words on paper.
This week's comic is the second foray in this space from previous Recipe Comix participant Kevin Budnik Inspired by the creativity of his Celebration Sandwich, we sent him to Memphis in May, the king of barbecue competitions, as part of an all-novice, all-journalist barbecue team cleverly named On Asswinement. Kevin found a lot of meat in Memphis, of course — including a surefire way to smoke a rib. But he found a lot more there, too. Click the image to enlarge to full size.
See previous weeks' Recipe Comix in the archive »
Kevin Budnik is a cartoonist and illustrator from Chicago. He is the author of the journal-comic Our Ever-Improving Living Room, which he updates weekly. He is currently the co-editor of Linework, an anthology of comics and graphics. Kevin is several months into a year-long exercise to document every item in his bedroom, which he posts daily on his blog. In the past he has listed his favorite foods as spaghetti, tacos, and more recently, tuna sandwiches. Find more of his work on his website: kevinbudnik.com