Recipe Comix: Awesome Chili for Awesome People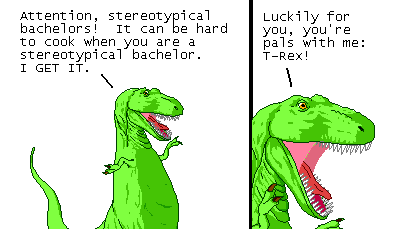 "Draw us a recipe." That's the brief we sent to a dozen of our favorite comic artists earlier this year; each week this summer, we're thrilled to present what they sent back. They're fantastic, beautiful, hilarious, thoughtful, informative, and often all of the above — and they prove that a recipe doesn't just have to be words on paper. (Take a look at previous weeks' comics in the archive.)
This week's comic comes from Ryan North, proprietor of what is surely the web's finest static-art comic strip, Dinosaur Comics. Here, T. Rex and friends are excited to teach you how to make chili so amazing that you might need to buy a new shirt:
See previous editions of Recipe Comix in the archive »
Ryan North writes Dinosaur Comics, a comic which updates every day using the exact same pictures with different words. It's better than it sounds? He co-edited Machine Of Death, which became the #1 bestselling book on Amazon the day it launched, and he also runs Project Wonderful, an advertising network that isn't terrible. He lives in Toronto with his awesome wife Jenn!