Recipe Comix: Biscuits and Tomato Gravy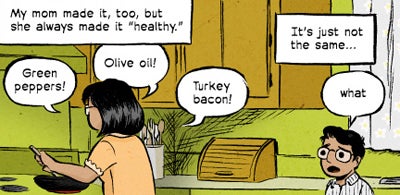 "Draw us a recipe." That's the brief we sent to a slew of our favorite comic artists earlier this year; each week, we're thrilled to present what they sent back. They're fantastic, beautiful, hilarious, thoughtful, informative, and often all of the above — and they prove that a recipe doesn't just have to be words on paper. Check out all the Recipe Comix published so far in the archive »
This week's comic is an old family recipe from the Minneapolis-based Gordon McAlpin, proprietor of the webcomic Multiplex. As he tells it, a plate of biscuits with bacon and tomato gravy is the best thing ever. Ever. We're certainly willing to be convinced.
See previous weeks' Recipe Comix in the archive »
Gordon McAlpin lives in Minneapolis with his cat Punk. In his twenties, he watched over a dozen movies a week. Gordon has written movie reviews, co-hosted a movie podcast, and edited a movie news blog, but now he just writes and draws Multiplex, an online comic about the staff of a movie theater. While he has never worked at a movie theater, he has had several equally terrible jobs.