Recipe Comix: Rice Pudding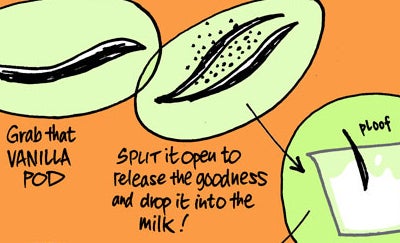 "Draw us a recipe." That's the brief we sent to a slew of our favorite comic artists; each week, we're thrilled to present what they sent back. The resulting works of art are fantastic, beautiful, hilarious, thoughtful, informative, and often all of the above — and they prove that a recipe doesn't just have to be words on paper. Check out all the Recipe Comix published so far in the archive »
This week's recipe comic comes from the London-based artist and writer Woodrow Phoenix, who is aghast at the American habit of consuming rice pudding at or below room temperature. Here, he presents in comic form his highly persuasive argument in favor of serving the dessert warm.
See previous weeks' Recipe Comix in the archive »
Woodrow Phoenix plies his trade from a studio overlooking Aldgate underground station in central London, when he isn't eating yummy things with Bridget Hannigan. He is the author of Rumble Strip and co-editor of Nelson. Chat to him on Twitter at @MrPhoenix.