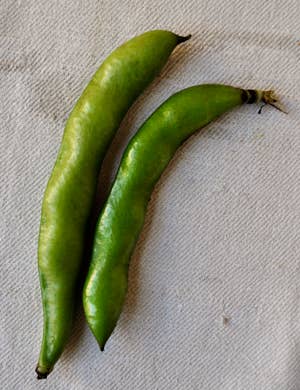 Fava beans, also known as broad beans, grow in places as diverse as China and South America, but we associate them mostly with Mediterranean cuisine. These large, flat legumes, which resemble lima beans, grow in pods that are discarded unless the beans are especially young. Usually favas must be skinned as well as shelled; this is easy to do after they've been cooked briefly in boiling water and dropped into ice water. Fava beans work well in stews and thick purees, or can simply be steamed and eaten with salt and a squeeze of lemon.
Featured Fava Bean Recipes
When purchasing fresh fava beans, look for bright green pods that are free of yellow patches. Large beans are starchy and firm, while smaller ones are sweeter and more tender.
If you are buying shelled beans, make sure they are tender and have a smooth surface.
To store shelled fava beans, spread them out in a single layer and cover them loosely with plastic wrap for up to three days.
Available from March through September, fresh fava beans are sold in most supermarkets and farmers' markets. They're also available online at Melissa's Produce.