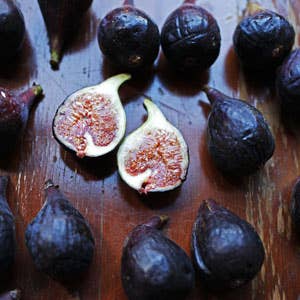 You'll find dried figs in stores year-round, but aromatic, thin-skinned fresh figs, grown domestically in California, are best enjoyed before October. Their earthy sweetness and the crunchy pop of their many tiny seeds make them an especially beloved fruit of the season. Their sweetness pairs well with savory accompaniments like thinly sliced cured pork or cheese, and the fruit tastes fantastic sauteed alongside meat. We like to spread slices of fig with soft goat cheese, or toss them into a green salad. On the sweeter side, drizzle figs with honey or a warm sweet wine sauce to serve with vanilla ice cream.
Look for a sweet sap oozing through a small opening in the navel of the fig (at its blossom end), which indicates that the fruit is sweet and ready to eat.
Select figs that are bruise-free, rich in color, and tender but not too soft. A light, sweet fragrance is ideal.
Be careful when storing figs, as their delicate skin is susceptible to bruising. Stored, the fragile fruit typically lasts just two days or less.
Look for fresh figs at local Italian specialty stores or your local supermarket when they are in season.