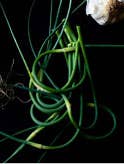 As a garlic plant grows, the tender young flower stalks are trimmed off to encourage larger bulb growth. Garlic scapes—as the stalks are called—are a wonderfully fresh, tasty food in their own right. They can be found in farmers' markets wherever garlic is grown; their season typically lasts two months, starting in May or early June, depending on climate. Garlic scapes are slightly spicy, with a mellower flavor than that of garlic. They work perfectly as a fresh garnish when raw and finely diced, and make a fine side dish, too, when chopped, sauteed, and served with a vinaigrette. Or, grill them whole. Scapes also make a great pesto.
Featured Garlic Scape Recipes
Look for firm, bright green scapes, which will keep in the fridge for about a week and can be stored in the freezer for several months.
Before using the scapes, wash them thoroughly and trim off the flower buds
If your local farmers' market doesn't stock garlic scapes, you can find them online at Melissa's Produce.