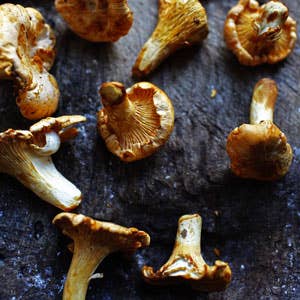 Summer is the prime season for some varieties of meaty fungi, long appreciated for their earthy flavors and scrumptious texture. July gives rise to the steady availability of trumpet-shaped chanterelles, which have yellow-orange caps with creamy stems and are appreciated for their complexity, providing a subtle hint of pepper as well as standard earthy notes. Plump porcini mushrooms are available fresh in June and impart a woodsy flavor whether grilled and served whole or added to pasta or risotto dishes. These varieties and others are incredibly versatile: they can be marinated, sauteed, or roasted and stuffed.
Featured Mushroom Recipes
Chanterelle mushrooms must be served cooked. To maintain optimal texture and moisture, stems should not be trimmed off.
Porcini should be trimmed at the base of the stem to cut away tough portions.
Look for mushrooms year-round at your supermarket, or at your local farmers' market when in season. For more exotic varieties, visit Melissa's Produce for descriptions of each and locations where they can be found in your area.