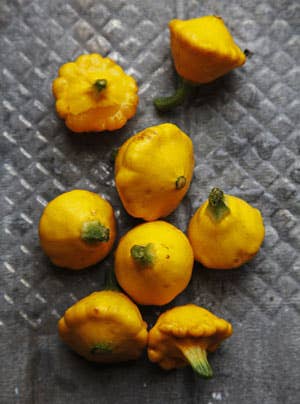 Summer is the season for thin-skinned squash, from baby green zucchini to small yellow pattypan. From April through July, you'll find bountiful gourds in various shapes, sizes, and colors. All varieties come in both baby and full-grown sizes, with the baby versions being a bit sweeter and containing fewer seeds. Crookneck squash, with bright yellow skin and a bumpy surface, is creamy and mild. Goldbar squash, sunshine yellow and smooth, is long and cylindrical like the common zucchini, with flesh that's slightly more tender. Summer yellow and green squash, also known as pattypan, are round and flat with scalloped edges and a mild, buttery taste. We love the Eight Ball zucchini hybrid for its nutty taste as well as the way its spherical shape makes it perfect for stuffing.
With tender skin and edible seeds, summer squash is well suited to a wide range of cooking applications; it's ideal for grilling, sauteing, deep-frying, stuffing and baking, or eating raw in salads. Grated zucchini also makes a great sweet bread. The blooms can be as delectable as the vegetables: try squash blossoms stuffed and fried, or use them to top a pizza.
Featured Summer Squash Recipes
Because squash skin is edible and the recipes for many dishes call for the vegetable to be used unpeeled, look for squash whose exterior is free of soft spots and nicks.
Smaller summer squash have a more delicate flavor and fewer seeds and are preferable to their larger counterparts, which can tend toward bitterness.
While mature summer squash can be stored in the refrigerator for up to four days, the baby varieties are more delicate and should be used within two days of purchase.
Squash blossoms are best eaten as close as possible to the time that they are picked. They're also very fragile: handle carefully.
Many summer squash varieties (zucchini in particular) can be found year-round in the produce section of the supermarket. Visit your local farmers' market for those and others in season, or visit www.melissas.com to find purveyors of more-exotic varieties in your area.