A Good Heart: The Incredible Versatility of Hearts of Palm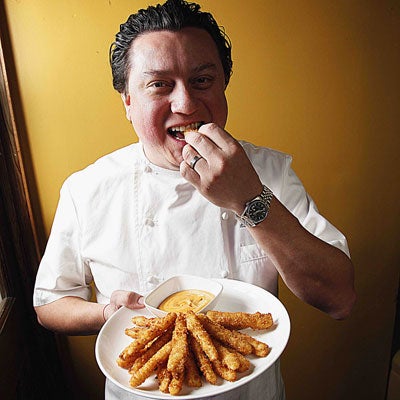 I've eaten the canned version of hearts of palm—the innermost core or growing bud of certain varieties of palm tree—in salads, pureed in soups, and straight from the can with a dollop of Russian dressing. I've liked their mild tang and creamy centers, but my familiarity with the ingredient wasn't complete until recently when, helping a friend on a cookbook project, I watched chef Harold Dieterle in his kitchen at New York's Perilla add fresh hearts of palm to a salad of baby red oak lettuce, Manchego cheese, and toasted macadamia nut dressing. Tasting a raw palm heart opened up a new world for me. Harvested from Hawaii's peach palm, a variety that sprouts up to 40 separate shoots that can be cut without killing the tree, the ivory-colored stalk was remarkably crisp, with a mild, woodsy flavor.
It turns out that Dieterle's not alone in his love for the ingredient; eaten in tropical and subtropical regions—in Philippine spring rolls, Argentine tarts, Brazilian empanadas—fresh palm hearts appear to be having a peak moment among chefs. I've found them roasted and pureed with sour cream to make a bed for foie gras at Adour in Manhattan; shaved over hog snapper carpaccio at Miami's AltaMare; and even mimicking pasta in a carbonara at Sao Paulo's celebrated D.O.M. restaurant. But my favorite way to eat fresh palm hearts is to swap them for the canned ones in a recipe I got from Julian Medina, of Manhattan's pan-Latin restaurant Yerba Buena. Medina breads the hearts in panko, deep-fries them, and serves them with a chipotle dipping sauce. I could eat baskets of them.