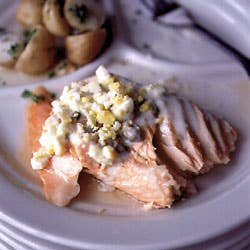 Culture
Menu: Refreshing Lemons and Capers
After winter's heavy stews and braises, we crave fresh, tart flavors and gentle textures. Bright lemon, briny capers, clean herbs, and tender salmon awaken the palate as we set our sails towards springtime. This week, turn forward the clocks and open the windows for some March breezes. Snack on lemon and coriander marinated olives while you set the table for a simple dinner of poached salmon dressed with a creamy egg-caper sauce, served with a zesty, herb-rich bulgur tabbouleh. An aromatic white wine, like the Sicilian Tasca d'Almerita Regaleali Bianco is a perfect companion, with a stunningly simple French lemon tart as a sweet end note.
Chunks of lemon and cracked coriander seeds lend a bright flavor to these earthy olives.
Use fine-grained bulgur for this refreshing, lemony salad.
Serve with our briny egg-caper sauce for an elegant, flavorful meal.
This briny, creamy but chunky sauce is the perfect contrast to the richness of poached salmon.
This scrumptious French tart is the perfect blend of tart and sweet.