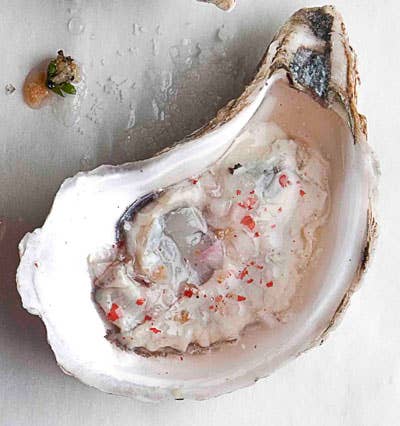 Culture
Aphrodisiacs: Food to Fuel Your Appetites
The connection between food and sex isn't hard to find—it always seems to come up whenever someone slurps an oyster or inhales the aroma of a fresh truffle—but around Valentine's Day, interest in culinary aphrodisiacs takes on a particular urgency. According to folk wisdom, eating certain foods can be a way to stimulate sensuality—cultures as diverse as ancient China, India, Greece and Rome had lists of edibles designed not to curb your appetite, but to fuel it. While chocolate is perhaps the most fabled sexual tonic, there are hundreds of ingredients, like saffron or liquorice, that have at some point in history been the remedy for bedroom woes.
Scientifically, these promises might not hold water (plenty of studies have shown that eating allegedly aphrodisiac foods has no provable physiological effect on the libido), but in many cases an aphrodisiac's effect is a testament to the mind's power of association. A food's taste or aroma can be enough to get the free-associations going — or its appearance: many reputed aphrodisiacs, like avocados and oysters, gained their aphrodisiac status simply because of their resemblance to sexual organs.
Of course, there's no guarantee that playing around with aphrodisiacs for your Valentine's Day dinner will lead to exceptional success in the bedroom, but it can't hurt to excite your lover's senses—even if it's just his or her sense of taste.