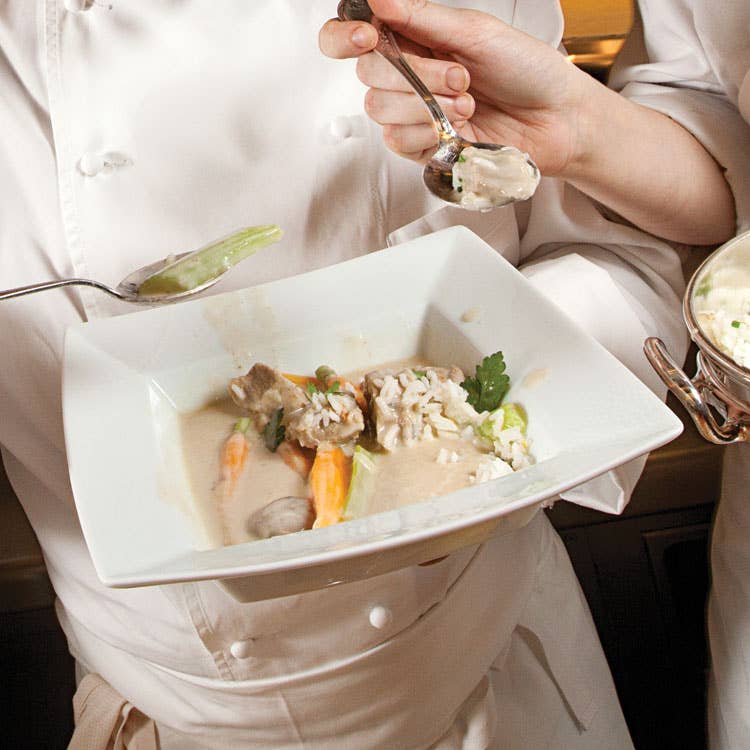 When I arrived for lunch at Chez La Vieille, one of the best bistros in Paris 25 years ago, the gruff but ultimately adorable chef-owner, Adrienne Biasin, guffawed and told me only a notaire (notary) would ever wear a camel's-hair coat. And to make sure I didn't miss the point, she added, "Et ils baissent mal, tous, ils baissent mal" [They don't make love well, any of them]. As she slid my plate in front of me, I observed that my lunch was almost the same color as my coat, and then I discovered it had a texture just as soft and rich. But if Biasin's blanquette de veau was way more butch than that much-loathed going-off-to-college garment from B. Altman & Co., it solaced with a warp of flavors maternal enough to make me an obedient baby—delicate veal, butter and more butter, cream and carrots. Still, there was nothing meek about it either, since the woof was pulse-pumping with frankly horny flavors, caramelized meat juices sharpened by the tastes of lemon, onion, and tarragon.
"This blanquette is almost as good as the third time I had sex with my uncle. It took us a while to get it right, do you know what I mean?" parried the copper-tressed French fashion designer (the one who shares a family name with an American state), whom I'd been told to take to lunch in my new job as a correspondent in the Paris offices of Fairchild Publications. Before I could answer him (and who knows what I'd have said), Madame Biasin was at my side again. "Well, Mister Notary, how do you like it?"
Heavily freighted with psychic tension and sexual innuendo though that meal may have been, my first blanquette de veau was nevertheless the most angelic dish I'd ever eaten. Later, the camel's-hair coat went to Goodwill, and I became friendly with Madame Biasin, who explained that this dish of braised veal tucked under a "blanket" of cream sauce is "something you only cook for people you really love." Why? "It's a lot of work, and it takes time to get right. It's not something you cook to seduce; instead, it's a reward and a comfort."
Aside from braising the meat and creating the sauce from bouillon, a roux, and egg-yolk enriched cream, the basic blanquette recipe varies from cook to cook. The first one I ever attempted was Julia Child's, bien sur, and it was very good, too, but as I became more adept, I added small button mushrooms and a spritz of lemon juice Child would probably have dismissed as unorthodox. The French chef Daniel Boulud includes pearl onions as well as mushrooms and a lavish quantity of cream in his recipe, provided below. Madame Biasin's touch was tarragon, "rather deviant, I know, but then I'm a bit of an old tart." When I can get it fresh, I also like to add some tarragon, so I guess I've become a bit of an old tart, too. Otherwise, the only sticking point I have with l'estimable Madame Biasin is that I've always found a really good blanquette de veau to be just about the fastest ticket to get between the sheets that I know, a success rate which might account for why blanquette de veau consistently ranks in the top ten when the French are surveyed about their favorite dishes. —Alexander Lobrano, author of Hungry for Paris (Random House, 2010)