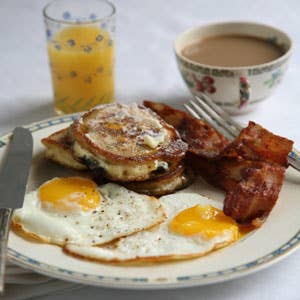 Culture
Breakfast Made Perfect
Here's our pick of the top kitchen appliances and breakfast recipes to start the day off right.
The morning meal is an important one, and the right tools can make a big difference. Below are our favorites.
The Pan
For perfect pancakes and eggs every time, the ThinkGeek Digital Thermometer Pan is our choice. Thanks to its built-in thermometer, you can control the temperature of your pan to the last degree.
The Toaster
Not only is the Jacob Jensen Toaster classically designed; its functioning is top-notch.
The Juicer
Fresh-squeezed juice complements any breakfast, and a great juicer is essential. These four picks can pulp and puree even the hardest of fruits.
The Recipes
From pancakes and waffles to sausage and potatoes, here's our collection of our favorite breakfast plates.
—Julie Wilson, SAVEUR