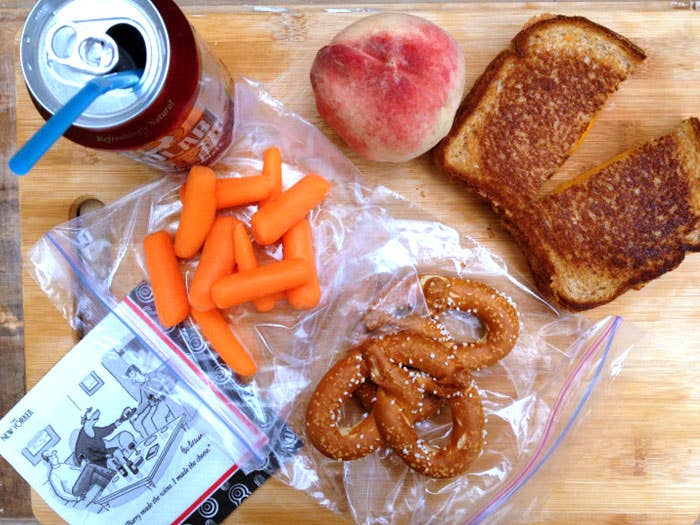 Culture
How Katie Workman of the Mom 100 Packs a Lunch
Katie Workman, the food writer and former publisher behind The Mom 100 cookbook and blog, shows us how she packs school lunches for her two boys.
On the long list of meals that I love to cook (and approach with excitement and enthusiasm) the brown bag lunch is pretty low towards the bottom. There are the parameters of what will travel well, what is appealing to eat at room temperature, and what the kids might embrace at home but think is "weird" to dig out of a lunch bag and spread out on a table in front of their peers. Also, there's the constraint of what I am willing to put together in a handful of minutes, while simultaneously making breakfast and urging my children to "find that other sneaker this very second!" And, full disclosure: I don't have to pack lunches for my kids every day during the school year because they eat there (insert sound of angels singing). But I have been packing lunches for day camp for the better part of a decade, and plenty of other to-go lunches along the way. Prufrock measured his life in coffee spoons; I measure my summer in Ziploc baggies (what did people do before?).
And yet, there is a certain unique satisfaction when it comes to the moment where I zip up that insulated lunch bag, a sense of "well, this is all done, off you go." It's in the hands of the lunch gods now. Because sometimes the lunch bag comes back empty, and sometimes (too many times) that damn Ziploc baggie full of carrots comes back with it.
Grilled sharp cheddar cheese sandwich, which my kids are happy to eat at room temperature
Baby carrots
Peach (which I should have washed)
Big sourdough hard pretzels
Pomegranate seltzer (the recent obsession)
Awesome New Yorker cartoon napkin which has a human husband with his cow wife saying to her human guest, "Barry made the wine, I made the cheese."