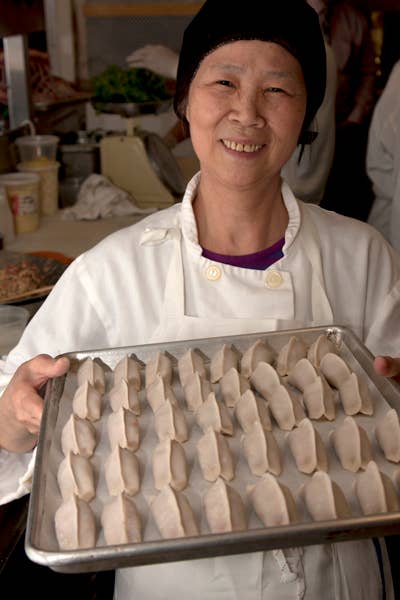 Culture
Buddakan: New York's Unlikely Dim Sum Palace
From the outside, New York City restaurant Buddakan looks a little like a geometric version of the Death Star. Extreme in its minimalism, it's all smooth, black walls, minimal windows, and an imposing, brooding air. Once you're in past the heavy, dark doors, it's a lesson in a different kind of extremity: soaring lacquered screens, a lavish sunken dining room with a Valhalla-style communal table, rooms upon rooms filled with Pre-Raphaelite paintings, gold-spined books — not to mention hundreds of tables filled with beautiful people.
Perched on the edge of the Meatpacking District, New York's micro-nation of Hummer stretch limos and bottle-service blondes, it's hardly the first place in the city you'd go looking for Chinese dumplings; if you're in pursuit of a top-notch steamer basket of crystalline shrimp wontons, you might think it was better to head a dozen blocks to the southeast, into Chinatown's warren of twisty-turny streets. But show up at Buddakan ten hours before the crowds, and you may as well be in Chinatown.
Every day, from 9 a.m. until mid-afternoon, half of the restaurant's massive kitchen is given over to a team of a dozen Chinese women — "the ladies," as co-executive chef Yang Huang calls them — in chef's whites and kitchen clogs, who mince scallions, chop water chestnuts, roll out dough, and pinch and fold together the thousands of dumplings that will be delivered that night to hungry diners. "It's the real thing," says Huang, who's been working with some of these women since the restaurant's opening in 2006. (They're directly overseen by the restaurant's dim sum chef, Ben Zhou.) Huang points to a woman rolling an egg dough using an oiled wooden stick: "They're doing it the way they do it at home: same ingredients, same rolling pins."
The proof is in the dumpling: the ladies turn out exquisitely textured wrappers and deftly flavored fillings with focused precision; the final product as good as any you'll find in Chinatown. Buddakan has a dozen types of dim sum on the menu; in keeping with the restaurant's ethos of culinary fusion, most wouldn't be found at a downtown dim sum palace. (The restaurant's bestselling dumpling is a creamy edamame-truffle puree wrapped in chewy har gow dough and doused in a Sauternes-shallot broth — it may not be the most traditional thing in the world, but it's fantastic.) But there are also pitch-perfect renditions of some of the classics, like sweet, meaty pork potstickers, or shrimp and pea-shoot har gow folded to look like bug-eyed goldfish. They're authentic and flavorful, a touch of the old-fashioned in a restaurant defined by its commitment to modernity.