Buttery, Crispy Bread Crumbs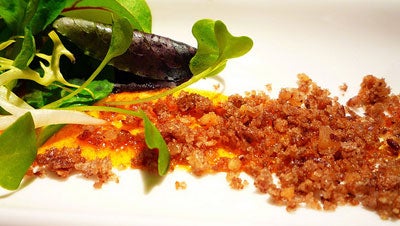 Fat and salt make food yummy. Add crispness to the duo, and you've got an unbeatable equation; just ask any fast-food mogul.
Crispy bread crumbs offer all the benefits of an ingredient that's fatty, salty, and crunchy, but you don't have to fry them (thankfully). When I was introduced to crispy crumbs as a pasta topping, I couldn't understand why anyone would want to put bread on top of another starch.
That is, until I tried them. Try for yourself in this Pappardelle with Cauliflower and Mustard Brown Butter recipe. Made correctly, crispy bread crumbs offer the same benefits to a bowl of pasta as a sprinkle Parmesan cheese, plus that satisfying crunch.
Crumbs are like fairy dust on vegetables: What's For Supper uses them to top cauliflower with a butter, lemon, and parsley sauce. Plus, bread crumbs are the ultimate something-from-nothing food—you were probably going to throw out that old loaf anyway. Planet Green takes you from stale bread to herbed bread crumbs with this simple how-to guide.