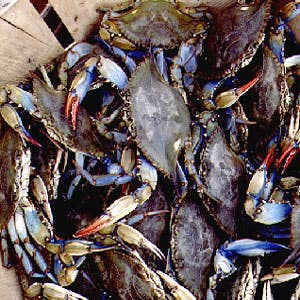 Culture
Chefs on Crabs
Here's what's on the minds, and menus, of some American chefs regarding softshell crabs.
In spring, many a chef's fancy turns to softshells. But what to do with them, beyond the obvious, simple, traditional treatments? Here's what's on the minds, and menus, of some American chefs:
Dean Fearing (Fearing's Restaurant, Dallas): Whips up a cornmeal-buttermilk batter flavored with dijon mustard, fresh sage, and roasted garlic; coats the crabs with it and deep-fries them, then tops them with apricot marmalade and serves with coleslaw.
Gray Kunz (Grayz Restaurant, New York): Breads live crabs with ground pistachios, sweet-potato chips, and shredded taro; panfries in a mixture of oil and butter; garnishes with additional fried pistachios and sweet-potato chips.
Emeril Lagasse (Emeril's, Restaurant, New Orleans): Coats crabs in a mixture of bread crumbs with bits of andouille sausage before panfrying in olive oil.
Hiro Sone (Ame, San Francisco): Mixes leaves of chopped shiso (a minty herb) into tempura batter for the crabs, then deep-fries them.
Elizabeth Terry (Elizabeth on 37th, Savannah): Rolls crabs in a chile-seasoned cornmeal, stuffs them with onions, leeks, and thyme, and sautes them in a combination of butter and oil.
Jasper White (Summer Shack, Massachusetts): Dredges crabs in milk, dips in flour, panfries them, and serves with spicy peanut sauce.
**Monique Barbeau **(Formerly at Fuller's , Seattle): Breads crabs in super-fine flour before deep-frying; serves with a smoked-pepper or lime beurre blanc and greens.