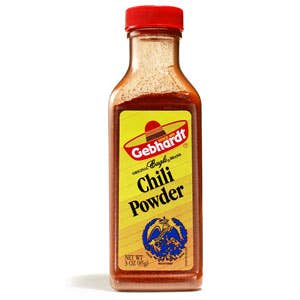 Techniques
Chili Powder
With its red color and robust aroma, this powder forms the very identity of Tex-Mex food.
Chili powder's deep red color and robust aroma form the very identity of Tex-Mex food, seasoning the meat for chilis and tacos and thickening the sauce for enchiladas. The stuff is made from seemingly mundane ingredients—dried chiles (usually ancho), oregano, cumin, garlic, and, sometimes, salt—that, when processed together, make a substance whose properties are nothing short of magical. Soluble in fat, the powder disperses its color and potent flavor when fried in oil or grease, melding with the beef and tomatoes in a pot of chili to create its distinctive taste and look. Rubbed onto a steak before grilling, it lends a striking hue and char.
Chili powder was invented in Texas; by whom is a matter of some dispute. The chili historian Joe Cooper maintains that a German immigrant named William Gebhardt invented the first chili powder in 1896 in the town of New Braunfels, which lies between Austin and San Antonio. Gebhardt operated a cafe in the back of a place called Miller's Saloon and devised a way of pulverizing Mexican dried chiles using a meat grinder (probably in an adaptation of the Hungarian method for making paprika). He sold his new product as Tampico Dust but later changed the name to Gebhardt's Eagle Chili Powder, as it is still called today. The foodstuff, which spared home cooks the laborious task of drying the chiles and pulverizing them by hand, became extremely popular throughout Texas and, later, the rest of the United States.
Other accounts point to a man named DeWitt Clinton Pendery as the powder's inventor. In 1870 he opened a dry goods store in Fort Worth called the Mexican Chilley Supply Company, and in 1890 he marketed a seasoning powder called Chiltomaline. Although it had apparently beat Gebhardt's to the punch by a few years, Pendery's product failed to catch on. "It is well said," he is reported to have remarked, "that few persons appreciate the benefits to be derived from the use of [chili powder]." We count ourselves among those who do.