Vanilla, the Perfect Flavor?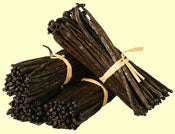 I won't lie: I go through vanilla like some people go through milk. It holds pride of place over the almond extract and buckwheat flour in the pantry, is a perpetual gift in my Christmas stocking, and finds its way into pretty much everything I make. Steel-cut oatmeal with dried fruit and nuts? Check. Chocolate chip cookies? Check. Tarte Bourdaloue? Check.
Like the milk enthusiasts who choose only top-of-the-line, organic milk for their daily consumption, I am of the opinion that just any old vanilla just won't do. Only Nielsen-Massey's Madagascar Bourbon Vanilla fits my bill. It's subtle without crossing over into wimpy and smooth without becoming syrupy. Plus, the company has been around since 1907—I'd say 100-plus years is long enough to perfect the art of vanilla making, wouldn't you?