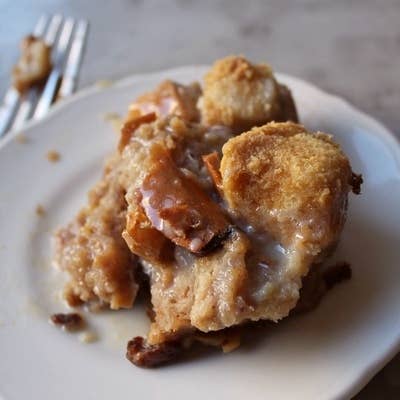 Culture
Family Meal: Banana-Rum Bread Pudding
The aroma hit me around noon today: there was something spicy and buttery and quite possibly boozy baking in the SAVEUR test kitchen. I did that thing I'm prone to do when I'm editing or writing at my desk and am suddenly confronted with irresistible food smells and pangs of hunger: I went to the kitchen to investigate, hoping to find something on the counter that I could eat.
As I walked across the office, I could distinguish the scent of bananas and rum. For a split second I was brought back to the days when I worked at Commander's Palace in New Orleans. It was circa 1994, and I made flaming Bananas Foster tableside a few times a night, caramelizing the fruit in butter, sugar, and flaming Bacardi 151 - and whatever was cooking today smelled exactly as delicious as that. (Excepting the not-so-infrequent occurrences when the Bacardi flames shot up too high and singed my bangs. That didn't smell very good at all.)
Arriving in the test kitchen, it turned out that the source of the aroma was a sheet pan of banana bread pudding, drizzled with a rich, warm sauce made of dark rum and condensed milk. I'm a bread pudding freak - in fact, the recipe I usually make is another signature of Commander's, with raisins and an addictive whisky cream sauce. But this version, developed by test kitchen director Kellie Evans, blew me away: warm, spicy, insanely rich and moist with molten bananas, it was by far the best thing I've eaten all week.