Fire Extinguisher in a Can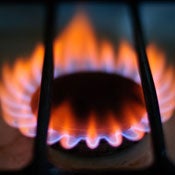 There are more than 100,000 kitchen fires in the U.S. each year, with Thanksgiving the peak day for flames to ignite. Many of us are poorly prepared for that scenario. Even if you manage to find your fire extinguisher quickly, traditional models aren't that easy to operate, especially if you're in a panic. There's an engrossing story on the Nibble about a fire that spread because the Nibble cooks couldn't get their extinguisher to discharge. The First Alert Tundra Fire Extinguisher ($29.95) helps solve these issues: It's a 14-ounce aerosol can that stores easily on your countertop. You just point it and spray it at the fire. The Tundra discharges up to four times longer than standard extinguishers and covers a wider area. It works on common household fires involving cooking oil, electrical wiring, and wood, and has a three-year shelf life, which is comparable to most small, non-refillable extinguishers.
You can find the Tundra extinguisher at many hardware and big-box stores. Visit the Home Safety Council website for some useful tips on battling kitchen fires.