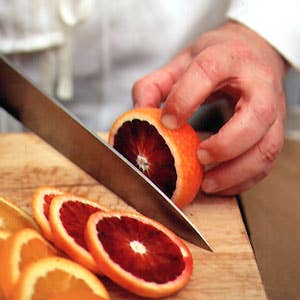 Culture
Fruit as Red as Fire
Sicilian blood oranges aren't just sweet—they're dolcissimi…and maybe the best oranges in the world.
As the golden morning light of winter washes over la fiera, the daily market in the eastern Sicilian city of Catania, shoppers bustle between stalls heaped with sheep's milk ricotta, glistening fresh sardines, and fragrant fennel. Of all the delicacies displayed, however, nothing delights the Catanese more than the blood oranges, or arance rosse, piled high, some cut in half to reveal ruby or dark violet flesh that suggests the slightly sinister romance of Sicily. And they're not just in the market. All over town, from the backs of three-wheeled trucks, weathered vendors cry ''Dolcissimi!'' in praise of the sweetest blood orange of all, the tarocco. Long after midnight, crowds are still gathered at kiosks, sipping thick vermilion juice blended with mineral water.
On childhood trips to Italy, I came to love that juice. Back home in America, I fed my craving with juice squeezed from California-grown blood oranges. But they seemed to lack the tang of their Italian brethren. Were my memories mere romantic illusions? To find out, last winter I spent two weeks traveling around Sicily, the true home of the blood orange, visiting growers and shippers from the black slopes of Mount Etna to the terraced hillsides of Francofonte.
Blood oranges flourish in many western Mediterranean lands, but they reach perfection around Catania, far surpassing blander blond or ''orange'' oranges in both flavor and popularity. Here, hot summers bring sweetness to the fruit, while cold winter nights, alternating with mild days, favor the development of anthocyanins, the red pigments that give blood oranges their distinctive berrylike taste and color. Connoisseurs insist that the Sicilian arancia rossa at its best, with its intense flavor, balance of acidity and sweetness, and complex aftertaste, is the world's finest dessert orange.
Blond sour oranges, also known as red citrons despite their pale color, reached Sicily from Asia by the fourth century a.d. Oranges from that period are depicted in the famous mosaics at Piazza Armerina in central Sicily. In the 12th century, a Sicilian poet praised a garden near Palermo where ''the oranges of the island are like blazing fire amongst the emerald boughs.'' But incendiary descriptions aside, those oranges, whose sourness made them best suited for perfume and seasoning, weren't bloods. Sweet oranges first arrived in Sicily from Asia in the 1400s. At some point in the following centuries, blood oranges arose from a spontaneous mutation—probably near Paterno, just southwest of Mount Etna. The early arancia rossa, small and seedy, fetched low prices at local markets, but better varieties led to expanded cultivation by the late 19th century. Today, sour oranges are rare in Sicily; the two common orange types are the blond sweet, like the valencia or navel, and the sweet red blood orange.
For many years, the leading variety of Sicilian blood orange was the sanguinello, typically round and medium-size, its flesh lightly streaked with red. A relative is the sanguinello moscato, perhaps named for the flyspecks of color in its flesh (_mosca _meaning fly in Italian). Both mature late, from mid-February through April. The tarocco—which often has a neck, like a minneola tangelo—appeared at the turn of the century. Today, as the favorite variety in Sicily, it is hailed as the supreme arancia di tavola, or table orange. Medium to large in size, with a relatively loose peel, tender flesh, and a rich but delicate flavor, the tarocco, harvested from January to May, now represents 65 percent of Italian blood orange production. The moro, the most recently developed variety, is highly prized for its reddish rind and dark, juicy flesh. And because it has the earliest growing season, from December to February, and is particularly dramatic and rich in color, this orange has become a popular one for export. In Italy itself, however, the moro remains the primary source for making thick, tangy, dark-hued juice.
Although Sicily ships small quantities of blood oranges to the U.S., mostly to the northeastern corner of the country, the greater part of the American supply comes from California's Central Valley. Italian and Spanish immigrants introduced the rosy fruit earlier this century, but only in the last decade has it become widely available at supermarkets as well as specialty stores. In California, the moro is the dominant variety, since it ''colors up'' most consistently. The tarocco is rare in the United States, its production hindered by a prevalence of inferior strains yielding thorny, unproductive trees and poorly colored fruit. Better clones from Italy have, however, recently become available, which is a welcome development.
The moro can also be problematic: Although it is magnificent when it reaches maturity in January and February, it tends to be unpleasantly sour up to that point—and at the end of the season it dries up and develops a musty flavor. When I tried a California-grown moro last April, I thought it tasted like medicine and chocolate, and it had the pungent odor of old sneakers. On the other hand, I fondly remember small, golf-ball-size moros I once bought at a farm stand near Vista, California, that rivaled the finest Sicilian variety in intensity; they had skins so thin I ate them like kumquats.
Blood oranges are not traditionally used in cooking. In Sicilian restaurants, they are usually enjoyed by themselves, absolutely plain, as dessert at the end of a meal. But at home, Sicilians love them in salad with red onions, olive oil, salt, pepper, and, often, fresh fennel. Along the via Etnea, Catania's main boulevard, I also sampled delicious blood orange cake and gelato, as well as faux oranges made out of marzipan.
Although Italy produces more than three billion pounds of blood oranges per year, far exceeding domestic demand, most farms are small (under three acres on average), and the wages are high—twice those of Spain, ten times those of Morocco. The result is that cheap foreign blonds beat out Italian bloods in major export markets. But Italians are now rolling up their sleeves to fight. For years, commercial processing of blood oranges, which turned the juice brown and flavorless, was unfeasible. With recent advances in processing techniques, however, chilled cartons of juice now appear regularly in Sicilian supermarkets, and more producers are able to sell small, blemished fruit to processors. Researchers at the Experimental Institute for Citriculture in Acireale have also developed promising clementine-tarocco hybrids that combine flavor with easy peeling.
In March of last year, Sicilian growers got a boost when the ''Arancia Rossa di Sicilia'' was granted an indicazione geografica protetta, a guarantee of quality and origin—similar to the denominazione di origine controllata for wines—that is part of a labeling program developed by the European Union in cooperation with the Italian government. The IGP restricts the designation to blood oranges from the classic growing region in eastern Sicily, and to those meeting accepted standards for size, sweetness, and color.
No one is more passionate about defending the heritage of the Catanese blood orange than Princess Maria Carla Borghese, whose husband, Scipione, was the founder and former president of the four-year-old Association of Sicilian Blood Orange Producers. The Borgheses grow organic blood oranges on 205 acres of their splendid estate, Il Biviere, in Lentini, the stronghold of the moro. In 1989, to enhance the prestige of Sicilian blood oranges, the princess started a program called Le Arance della Salute, or Oranges for Health. On the last Saturday in January, volunteers sell bags of moros and taroccos in more than 700 piazzas throughout Italy, to benefit cancer research. (Of all citrus fruits, the tarocco is richest in vitamin C, and some Italian researchers firmly believe that the anthocyanins in all blood oranges strengthen the circulatory system, cure ulcers, and scavenge free radicals that may cause cancer.)
A handsome, elegant woman, Borghese led me through the muddy groves of Il Biviere to a tree producing spectacularly dark moros. ''You can take this orange—bloody, bloody, bloody—and plant it only ten kilometers away,'' she said, ''but you may well get no red fruit at all.'' Back at her 17th-century villa, she poured me a glass of scarlet moro juice while rhapsodizing about the fruit she loves: ''Sicily is such a magical place—the sun, the sea, the ruins. Even the fruit is special.''