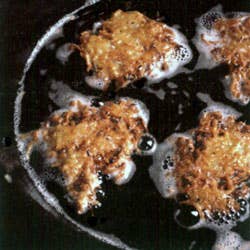 Culture
Frying For Love
Celebrate Hanukkah with potato pancakes that will really make you flip.
Much is made of the wisdom of children, and at this time of year I recall Kyle Broflovski, the South Park cartoon character who sings a filthy song called "The Lonely Jew on Christmas", in which he moans that instead of eating ham he has to eat kosher latkes. It's funny but wrong. To me, golden, salty fried potato pancakes (latkes)—crunchy on the outside, soft and tender on the inside—are the best part of Hanukkah.
With thoughts of them in mind, a few years ago I attended the Annual Latke Festival (formerly known as the Lower East Side Latke Festival) in the town of Syosset on New York's Long Island. Founded in 1984 by food writer Roger Mummert and friends, primarily (he has said) as a way to meet girls, the festival grew from a gathering of about 12 in a downtown Manhattan loft into a 150-person-plus suburban extravaganza of hungry latke admirers, Jewish and otherwise. Though once a singles scene, the party has evolved into a madcap family affair in the Mummert home, where about a dozen cooks gather each year at electric-frying-pan stations to turn out their goods. The din is deafening, and there is much jockeying for position as fresh batches of latkes are carried from kitchen into living room; many don't even make it to the table. During the six-hour festivities, informal competitions are then held in a variety of categories: best traditional latke, best multicultural latke (my favorite was the Tex-Mex-inspired "jalapeño popper" version; see Larry's Firecracker Latke Poppers), best dessert latke, and many more. Anyone attending may vote, but Mummert has the final say.
As a self-styled latke expert, Mummert has appeared on CNN and on local TV to proselytize for his views on them (he favors the kind made of grated potatoes, which are less refined but starchier than those made of pureed spuds), and he knows their lore, too: when the Romans tried to overtake Palestine in the middle of the second century B.C., brave Judah Maccabee led a successful revolt; afterward, though, there was no oil to light any lamps, and a miracle happened—a tiny bit of oil provided enough light for eight days and nights. On Hanukkah, Jews commemorate the divine occurrence by cooking things in hot oil, including potato pancakes. "An old joke goes that most Jewish holidays boil down to three basic ingredients: they tried to annihilate us; they didn't succeed; let's eat already!" Mummert has said. Presiding as the bona fide Fry Daddy over this party, he may not be Father Christmas, but he sure doesn't look lonely, either.