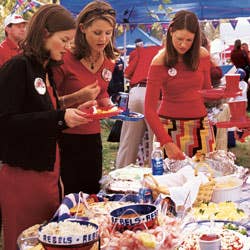 Autumn is still weeks away, but the promise of what the season holds already has us excited. Something about chilly evenings and leaves crunching underfoot gets us in the mood for eating, a pastime that—for sports fans—goes perfectly with football.
Fall signals the arrival of many beloved feasts like Thanksgiving. But as we discovered in Tailgating at Ole Miss, an introduction to the elaborate buffets enjoyed by fans at University of Mississippi home games, it also means a variety of lesser-known traditions centered around eating.
Admiring an enticing spread of food—whether it's near a football field or in your dining room—and anticipating the meal is part of the fun. We've created a menu that will satisfy all your senses, and keep you and your guests coming back for more.