Get To Know Your BFBA Finalists: Best Recipe, Best Photo, Best Piece of Culinary Writing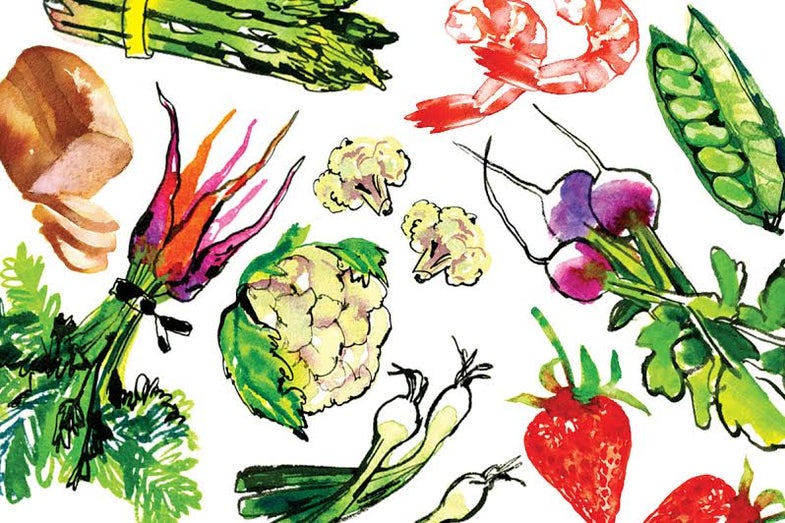 We love each and every one of the six finalists in each of the sixteen categories of our Best Food Blog Awards, and we want you to get to know them too! In this installment, we cover the most specific categories. The finalists for Best Recipe, Sweet or Savory, each bring something different to the table, yet are all worthy additions to anybody's culinary arsenal. The finalists for Best Single Photo caught our eye for different reasons, but there's no doubt that these breathtaking images are some of the best we've seen all year. While much of a food blog's appeal depends on the content of the previous two categories, it's great food writing that makes us loyal readers, and the finalists for Best Piece of Culinary Writing keep getting better with each read.
BEST RECIPE, SWEET OR SAVORY
• Kiran Tarun: Paneer Tikka Pizza
This inspired fusion recipe is the ingenious result of a night of kitchen experimentation. Pizza and tikka paneer, all topped with a subtle yogurt sauce? It's a brilliant combination.
•Luxirare: Crispy Penne
The best part of any baked pasta dish is indisputably the perfect crunchiness at the top. This recipe from Luxirare is all crisp, no mush, garnished with fresh basil and sliced tomato. Simplicity itself.
•Eat Make Read: Zucchinitini
We love vegetable-based cocktails, but it had never occurred to us to use zucchini's delicate flavor until we came across Eat Make Read's pairing of gin and zucchini juice, creative and refreshing.
•Food in Jars: Quince Slices in a Spiced Chai Syrup
Marisa's recipe for quince slices in a spiced chai tea syrup is a revelation: spicy, rich, deep, and flavorful, it's autumn in a jar.
•Lucullian Delights: Polenta Tart with Lime
A slightly sweet, slightly tangy, undeniably sophisticated dessert, this polenta tart is brilliant on its own, or as the endpiece to a Mediterranean-inspired meal.
Joy the Baker: Double-Dipped Apple Donuts
Don't be fooled by the recipe name: these treats are more apple-rings than donuts: double-battered, sugar-topped apple slices that are seriously addictive.
BEST SINGLE FOOD PHOTO
•Seattle Food Geek: Pickled Tomatoes
After quick-pickling tomato slices in a vacuum sealer, Scott produced this photo, which beautifully details the interior architecture of the fruit.
•Licking the Plate: Blood Orange Rind
Bursting with color, this photo is proof that the discarded bits from cooking can be lovely, too: vibrant blood-orange flesh, dry white pith, and the glowing orange rind.
•Pratos e Travessas: Purple Garlic
Produce as art: a simple shot of a bulb of purple garlic reveals layers of detail, on top of a grained backdrop that mimics the whorls and swirls of the garlic itself.
•Call Me Cupcake: Birthday Cakes
A few bright touches of red accent the fudgy-looking cakes in this richly-toned photo, a moody, baroque take on classic birthday imagery.
•What Katie Ate: Pearl Barley and Puy Lentil Salad
The mix of colors and rich textures in this photo make it a work of art: as an image alone, it's tremendously evocative of the flavors and aromas pictured.
•Orangette: Morning Biscuits
Soft light gently blanketing a serene breakfast table, a basket of biscuits fresh from the oven — it's a perfect encapsulation of early morning.
BEST PIECE OF CULINARY WRITING
•Food Woolf: Service 101: Help Me Help You
Brooke's eloquent discussion of the server-diner relationship touches on even greater questions of what it means to eat in a restaurant, and what it means to serve.
•Nostrovia: Moonshine Maker
Jodi's touching homage to her great-grandmother paints a portrait of a multifaceted woman: a mother, grandmother, farmer's wife, and master moonshine maker.
•The Farmer General: On the Subject of Cookies
In this elegant story, Marie-Laure wittily weaves her favorite chocolate chip cookie recipe in with stories of family and memory, a comforting reminder that some things always taste like home.
•Kitchen Insurgency: Looking for Laundry with Llamas
Food and memory are inextricably intertwined, but the stories aren't always about family. For Karen, some foods help her connect to another tribe: her childhood friends from summer camp.
The Spinning Plate: On Being Satisfied
Angela philosophizes on the paradoxical relationship between hunger and eating well, observing that the latter inspires a kind of insatiable appetite, an impossible need to top each great meal with another.
•Cafe Fernando: My Chez Panisse Experience
Turkey-based blogger Cenk documents his enviable culinary travels on his blog, including this story about a truly memorable meal at Berkeley's Chez Panisse.