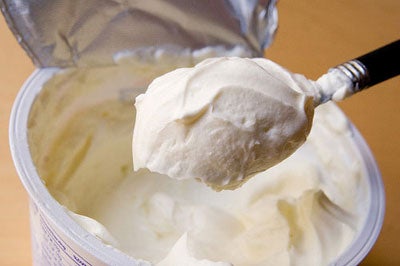 Of all the foods I buy and sometimes regret eating, the one ingredient I never question is yogurt. Active yogurt cultures are like a hive of buzzing worker bees, laboring toward the health of my innards. Yogurt loves me back.
Thick, rich Greek yogurt, typically made from sheep's milk, is the one I love most. To be fair, thick yogurt isn't the provenance of the Greeks; they just marketed the stuff over here. Thick or strained yogurt (from which the whey has been drained) is also used in Indian, Russian, Turkish, Nepalese, and Middle Eastern cooking. Ever heard of labneh? That's strained yogurt, served just like a cheese spread and often spiced with za'atar, a Middle Eastern spice mix. In fact, some Greek women I know like the texture of Greek yogurt so much they use it to make their tzatziki, a condiment of yogurt, cucumber, garlic, and herbs that pairs beautifully with grilled lamb.
I love Greek yogurt for breakfast, though, stirred together with other flavors. My friend Jessica Berger Gross wrote a book called enLIGHTened: How I Lost 40 Pounds with a Yoga Mat, Fresh Pineapples, and a Beagle Pointer (Skyhorse, 2009). In it, she pays homage to a breakfast recipe made with Greek yogurt, fresh pineapple, almonds, and honey. It's balanced, delicious, and addictive.
For more ways to eat Greek yogurt, see these five ideas from Associated Content (including a kid-friendly one for peanut butter fluff). As for cooking, yogurt takes the place of stock in braises and sauces in Indian cooking, and adds even better texture and flavor, as in this recipe for chicken and onion curry.
Plus, yogurt tenderizes. In fact, dairy is the best tenderizer, according to Shirley Corriher in this article for Fine Cooking. She explains why yogurt and other dairy marinades are more effective tenderizers than acid- or enzyme-based marinades.
You can make your own, or buy some: most supermarkets carry at least one brand of Greek yogurt nowadays. Before making your selection from among the many brands of Greek yogurts, review this guide from Serious Eats. They tasted them all, so you don't have to.