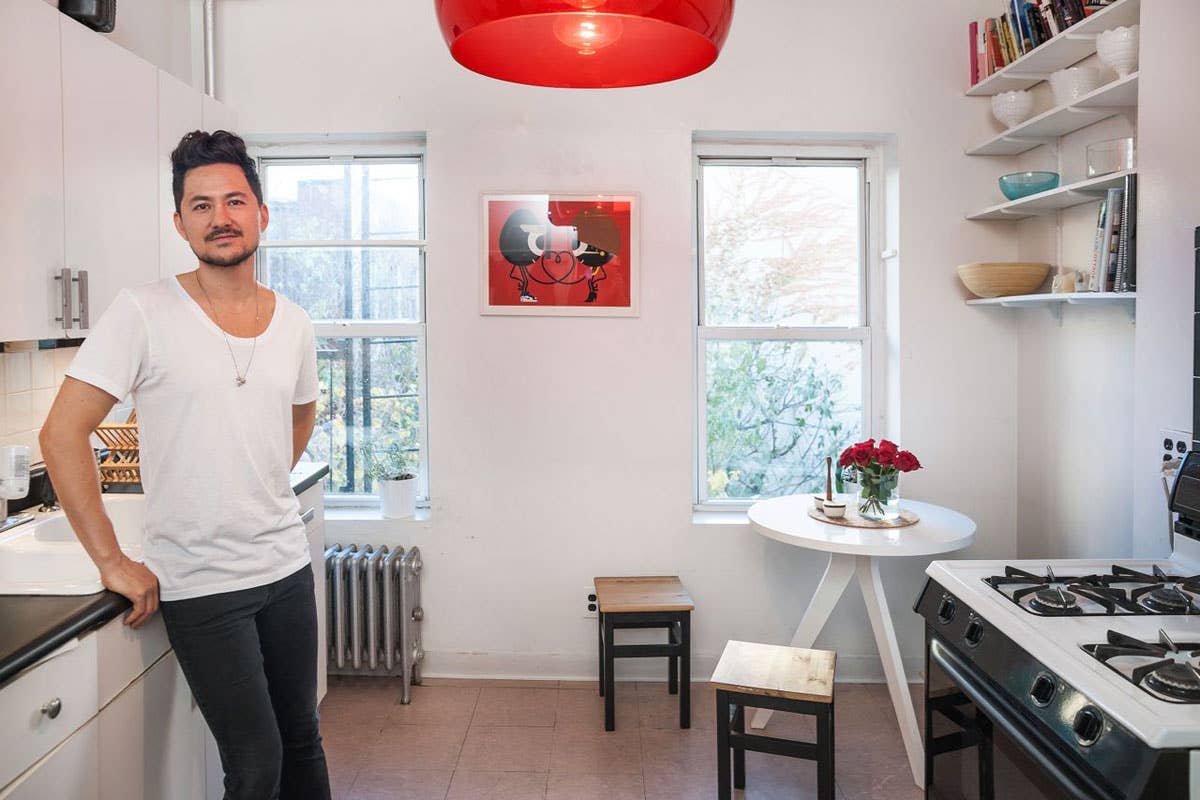 Culture
I Love My Kitchen Because: Oli Chang
Oli Chang, one half of the Australian band High Highs–whose debut album is coming out this January–has lived in his Williamsburg, Brooklyn apartment for two years, ever since moving to New York with his partner Ebony. His kitchen, full of useful secondhand finds like a seasoned cast-iron skillet from a store in Bushwick and a copper kettle that Ebony found at a flea market upstate, is his favorite room in the apartment, and he loves to spend long afternoons cooki
• I'm a big fan of little round tables: they don't take up much space, and they're much more conducive to social interaction. We've fit five guests around our little table in the corner, but it was really pushing it. I love sitting at the corner table with the view out the window, it's kind of an abandoned parking lot, but there are two fig trees and all this foliage that takes it over in the spring, and it's so nice to look out over that greenery in the midst of grungy Williamsburg. And no one else can look in, so it's nice to have that vista.
• I especially love being in the kitchen in the fall or winter from about one o'clock into the evening, spending the whole time cooking long-winded things and drinking wine. I like to try and cook two meals on weekend days like that: I'll start with lunch and then putter around until dinner.
• When we moved in, we replaced all the cabinet features and covered all the countertops with black contact paper. The counters are this really gross linoleum, and this makes them look much better.
• Most of Brooklyn is so vintage, I like to have a break from that in my own house with things that are more pop. For one of my birthdays, Ebony gave me a portrait by Craig Redman of me and Ebony as his character Darcel. It hangs on the kitchen wall, and it's a coincidence that it matches the red light by Kartell, that we picked out at Design Within Reach.
• My favorite tools are my Japanese mandolin and my cast iron skillets. I like making lots of shaved vegetable salads with my mandolin, and I like putting my skillet in the broiler and getting it really hot and cooking things quickly that way so the place doesn't stink up. Most of the equipment in the kitchen we brought with us from Australia, but in hindsight we would have brought a lot more, because we had a lot of nice stuff we left behind. One of my favorite little things we brought with us is is a salt-and-pepper boat from Australian designer Marc Pascal.
• We often have fresh flowers in the kitchen. I'm actually the one who usually picks them out. I either get them at the bodega or the farmers' market, 50/50, depending on the season. This summer one of the vendors at the farmers' market taught me how to make poppies last longer by putting them in the fridge whenever you're not at home. She said that sometimes she even leaves a vase of them in the fridge so that every time you go the fridge there's this nice bunch of poppies in there. I really liked that idea.
Interview conducted and condensed by Anna Stockwell