James Joyce Ate This
The famous author was particularly fond of presnitz, a house specialty of Pasticceria Caffe Pirona in Trieste.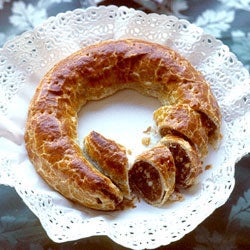 Walk through the frosted-glass door of Pasticceria Caffe Pirona in Trieste, and you enter another era. Famous in part for being one of James Joyce's favorite cafes (he lived across the street from 1910 to 1912), the shop has art nouveau mirrors, wood paneling, lace curtains, and an obliging staff. Joyce, who apparently wrote the opening of Ulysses here (though he must have written it standing up because the shop has no seating), was particularly fond of the Presnitz, a horseshoe-shaped pastry stuffed with raisins and walnuts—a house specialty since Alberto Pirona founded the shop in 1900. These days, the pasticceria sells most of its presnitz prepacked to go or to ship to mail-order customers but will also serve it warm by the slice on request. It's delicious any way you have it.