James Oseland's Perfect Picnic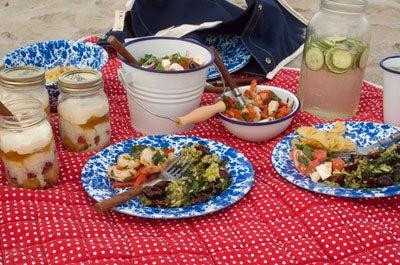 Yesterday afternoon, SAVEUR's editor-in-chief James Oseland dropped by the Leonard Lopate show to talk about the makings of a perfect picnic: flavorful, portable foods that are just as delicious after a few hours in a picnic basket (or tote bag, cooler, or whatever transport catches your fancy). James suggests keeping it basic: finger foods, foods that "get better over time, that don't need to be icy cold or very hot," and composed salads without greens.
For particular dishes, James suggests foods "that get better over time": muffuletta, banh mi, or fried chicken. He also mentions the best way to peel eggs (perfect for deviled eggs, a picnic classic), and suggests that the ideal dessert is brownies.
Listen to James and Leonard talk moveable feasts with the embedded audio below, and feel free to let us know about your favorite picnic foods in the comments.
More picnic ideas:
A summery French picnic menu »
A Fourth of July picnic menu »
20 summer sandwiches »
20 ideas for picnic foods »