The Zen of Japanese Vegetarian Cuisine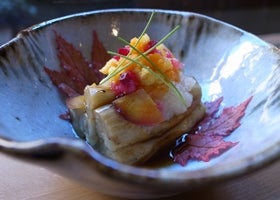 In Japan, shojin ryori cuisine, the ancient vegetarian diet first followed by Buddhist monks, has been practiced for centuries. At chef Masato Nishihara's New York City restaurant Kajitsu, it's been dished out for a little more than a year. "I have trained as a chef in Japan, but I'm not a Zen monk," he quipped to an audience last night at New York's Japan Society, sharing the stage with cookbook author Elizabeth Andoh for a discussion entitled "Field to Table: The Role of Vegetables in Japanese Diet."
At Kajitsu, Nishihara strives to showcase seasonal vegetables with a balance of flavors inspired by shojin cuisine, but achieved only by adhering to certain philosophies of his own. There are two important rules to cooking with produce, he explained through a translator. Rule number one: Believe in the vegetable. Rule number two: Do not believe in the vegetable.
The tenets seem contradictory, but they suit Nishihara. "I am crazy," he teased the audience right after proclaiming his rules. But his reasoning must work; after all, it's this kind of kitchen logic that earned him two Michelin stars this month.
Besides koans of vegetable belief, Nishihara's kitchen philosophy also incorporates a vegetarian adaptation of the butcher's snout-to-tail attitude. Call it flesh-to-peel: when faced with a vegetable, he knows how to use it all. Talking about simmering the middle part of a daikon in three different stocks to make his furofuki daikon dish, he pulled out the root and performed an on-the-spot demo of an edible tribute to fall. With his knife he peeled the cream-colored skin into a sheet like a scroll of parchment, then rolled it up and sliced it paper thin before placing the translucent rounds onto a plate decked with burnt-orange and gold-colored hibiscus leaves; finishing it off were the pickled leaves of the daikon. Nothing went to waste.
For the home cook, Nishihara had related advice: Get face-to-face with your veggies. Think about what you will cook, consider the ingredients before you, and then "All the effort you put in will be given back to you in a gift of deliciousness."