Looking for Kao Soi
This complex northern Thai noodle soup is one of Asia's greatest dishes.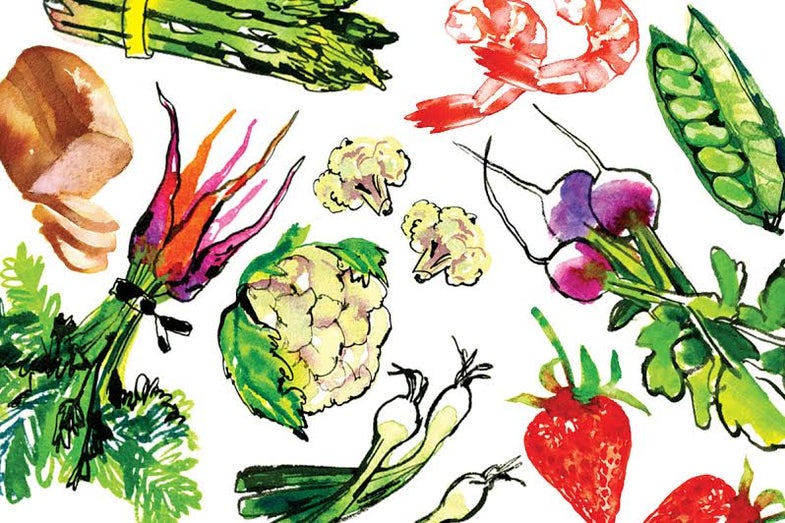 One blissful afternoon in the northern Thai city of Chiang Mai, I discovered kao soi—a complex curried noodle dish of the area—which one authority has described as being "so sumptuous that it is almost as addictive as the opium that is still grown in the surrounding mountains."
The Thai capital, Bangkok, in the south, is a sweltering, polluted city, with its 10 million people apparently stuck in an endless traffic jam. Chiang Mai, in the upper reaches of the country, is an oasis usually several degrees cooler than Bangkok, and—with a population of 1.5 million—is considerably less crowded. It's no wonder, then, that the Thai royal family maintains a home in the forested hills outside Chiang Mai, or that luxurious resort hotels have blossomed in the locale, serving both wealthy Thai and visitors from around the world.
It was at one of these hotels, the Regent Resort Chiang Mai, which opened in 1995 in the village of Mae Rim, not far from Chiang Mai itself, that I fell willing victim to the seductive pleasures of kao soi. I had wandered innocently into the hotel's Sala Mae Rim dining room, where an American-born chef named David Bedinghaus, with counsel from his expert Thai assistants, creates some of the best Thai food I've encountered.
The meal began with kratong tong, small pastry shells enclosing chicken and shrimp, carrots, and sweet peas or chicken with dried chiles, lemon juice, and nam pla (Thai fish sauce). A consummate tom ka gai soup followed, its velvety texture and coconut-milk richness accented by chopped chicken, thick chunks of lemongrass, gingerlike galanga, and big straw mushrooms. Next, I sampled sai oua, a spicy pork sausage—dense and black, but remarkably moist on the inside, with subtle flavors of lemongrass and cilantro. Then came the kao soi…
The province of Chiang Mai stretches all the way to the borders of Laos and Myanmar (formerly Burma) and the notorious "Golden Triangle", which produces much of the world's opium. Even today, this mountainous region remains remote and is sparsely populated by nomadic hill tribes—but over the centuries, across these borders, northern Thailand has come into contact with the Burmese, Laotians, Chinese, and Indians. Kao soi seems to encapsulate the history of the province: Mixed with tom ka gai's base of coconut milk and chopped chicken are curry powder and turmeric from Myanmar and India to the west, fish sauce and red curry paste from Thailand's south and central plains, and ba mee noodles from China.
At the Sala Mae Rim, the kao soi was a memorable sight: Its dark broth and yellow noodles were offset by the pale green of a beautiful celadon bowl (the pottery is a local specialty). Half the noodles were submerged in the broth, where they softened; the rest, rising above the liquid, were crispy. On the side were the condiments—chopped shallots and green onions, pickled cabbage, and hot chile sauce—and I was somewhat surprised to see the kao soi being served with chopsticks, a rarity in Thailand, where practically everything is eaten with a fork or a spoon.
Raising to my mouth a tangle of soft and crunchy noodles dripping with the intensely flavored soup, I took my first bite. It was delicious, even more than delicious. I found it deep, complicated, varied—an anthology of flavors in a single bite. I became convinced that I had discovered one of northern Thailand's—one of Asia's—greatest dishes. I was in love.
Not all of my dining experiences in northern Thailand were quite so exquisite. I went out to dinner in Chiang Mai one night with Sai and Khun, my cheerful Thai guides. I had begged them to take me to a local restaurant with no English menu, and they accommodated me by finding an open-air place, where we sat outside at a picnic table. Khun, whose eyes lit up when the owner recited the night's specials, ordered for us. When the dishes arrived, there was mildly spiced cashew chicken, stir-fried eggplant with bits of egg, and a spicy fish soup ("You'd better not try this," warned Sai, worried about my supposedly delicate non-Thai tastebuds, but I found it only mildly incendiary). And there was something else…
"And these are…?" I asked. "Deep-fried bamboo worms!" Khun exclaimed with delight. "I love these things!" The "worms" turned out to be inch-long caterpillars with smooth yellow exoskeletons and tiny antennae. We ate them like french fries. I can't say that they tasted like much; however, they were crispy. When you tell the Thai that you've sampled bamboo worms, I later learned, they always ask, "Did you eat the big worms or the little ones?" Then they always reassure you: "They're really quite clean…for worms."
The next morning, declining a chance to ride elephants with my tour group, I headed north with Sai and Khun towards Chiang Rai and the Myanmar border. We wound our way through the hills, which are terraced with rice paddies. These were once part of Thailand's "million rice fields", long thought to insure that the country's citizens would never go hungry—though now authorities are worried that too many of the fields are being given up for development, and that future rice supplies might not be guaranteed after all. At the tiny juncture of Pong Nam Rong, we stopped at a roadside market selling handicrafts made by tribes in the neighboring hills. They also sold big glass jars of the nasty-looking Mekong whiskey, a Thai form of lighter fluid that's sweetened with honey and flavored with spices. "What does it taste like?" I asked. Khun put his hands to his throat and made loud gagging sounds.
We continued on to Chiang Rai, where we arrived in time for lunch. "What would you like to eat?" Sai asked. I didn't even have to think. "Kao soi," I said, "if there's any around here." Sai and Khun led me to a cavernous restaurant called the Waing Inn—cavernous and empty, except for a young, long-haired Japanese woman standing on a small stage, belting out karaoke tunes. It hardly seemed promising, but we ate a very satisfying lunch of Thai sausage, which was garnished with mangoes, carrots, and cantaloupes carved to look like roses, and a hearty version of kao soi—not as elegant as the Regent's, to be sure, but still superb.
"You like kao soi?" Khun asked as we left. "I love kao soi," I answered quickly. "Do you want to go to a village that specializes in it?" he asked. "Sure," I said, "but when?" "How about right now?" he replied. So off we went, driving north, crossing the Kok River—a tributary of the mighty Mekong—and continuing on to Baan Huay Khrai, the very epicenter of kao soi. There, we found two small restaurants side by side, each with a concrete floor (shaded by a tin roof), picnic tables, and an open kitchen in back with steaming cauldrons of soup.
My guides led me into one of them, Hau Soi Chaiyen—a family business that's been serving kao soi for some thirty years. A pretty girl of 18, named Comtan, showed us how the soup is assembled, and taught me that kao soi comes in more than just a single form: She dipped a strainer full of noodles into a pot of hot broth and then dumped them into a bowl. Over this she ladled a stew of chicken meat and scallions, then asked which broth I wanted—nam kathi, which was the curried coconut-milk broth that I had tasted in Chiang Mai and Chiang Rai, or nam nyo, a spicy pork broth. "One of each" is what I actually felt like saying, but I thought that might be a bit rude, so I opted instead for the pork version. Over the top of the bowl, Comtan sprinkled fried noodles. The condiments this time included pork rinds, salty fish sauce and plum sauce, limes, chopped chiles and onions, bean sprouts, and kimchi-like pickled cabbage. We washed down the meal with several bottles of Polaris water.
The cost for a bowl was a mere 12 baht, about 45 cents. For that price, I was transported to kao soi nirvana. My romance with this extraordinary dish, I pray, will be long and fulfilling. And if the occasional fried worm crosses my path, I can deal with it.