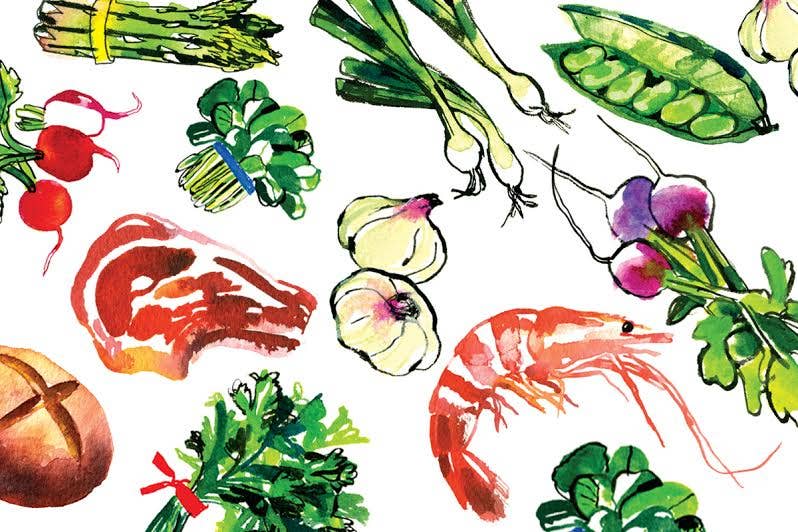 Culture
Love Triangle
An underappreciated cut of meat finally gets the love it deserves.
When we were looking for a cut of beef that would partner well with the Chive Butter recipe using this versatile herb, it didn't take us long to settle on steaks from the tri-tip sirloin. That robust but underappreciated, three-sided cut of meat—also known as a triangle tip or a triangle roast—is generously marbled and affordable, and it browns beautifully in a hot skillet. The tender tri-tip is cut from the bottom sirloin, in the vicinity of the steer's hip; a whole one usually weighs between one and a half and two and a half pounds.
Why the tri-tip is little known in many parts of the country is a mystery to us, though it may have something to do with the fact that there are just two tri-tips per steer—not quite enough meat to fill up a row in many butchers' display cases. In our experience, it's easier to find whole tri-tips on the West Coast. Some would attribute that situation to a butcher named Bob Schutz, who, by some accounts, was one of the first in America to offer what he called whole triangle roast, while working at a meat shop in the San Luis Obispo region of California in the 1950s. What we do know is that, before then, most butchers had designated tri-tips for grinding up into hamburger.
No matter how it's prepared, the boldly flavored tri-tip stands up in zesty dishes—as champion chili makers have known for a long time. J. R. Knudson, the California-based, 91-year-old winner of the International Chili Society's World's Championship Chili Cookoff in 2006, used beef tri-tip in his winning chili recipe(visit www.chilicookoff.com). "It has streaks of fat," says Knudson, "and is always consistent." Knudson's 86-year-old wife, Margo, who won the same title back in 1987, also swears by the tri-tip. "It holds up better than chuck," she says. "You can depend on it." Now, doesn't a cut that reliable deserve a bit more love?