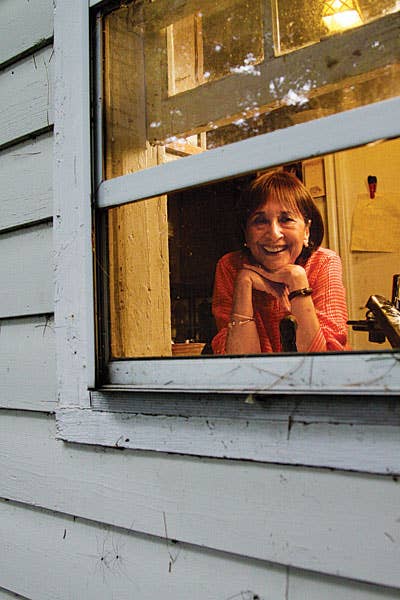 Culture
Making It Work: Inside Madhur Jaffrey's Kitchen
Sometimes the kitchen you want isn't the kitchen you get
My grandmother's kitchen in Delhi looked out on the Yamuna River, and fresh air blew through generous windows; my mother's kitchen there had three separate rooms. When I think of my ideal kitchen, I dream of space: of long granite counters, of places for my around-the-world seasonings and my collection of international crockery. When I see women in India turning out wondrous, multifaceted meals, squatting in front of a single burner in kitchens that boast of nothing more than gleaming brass pots, I begin to question my dreams. But I do not stop dreaming.
My husband and I have an apartment in New York City with a small galley kitchen, just a bit over eight-by-seven feet. When I was somewhat younger, we entertained there, cooking meals for dozens. I even taught cooking classes in it, though because of the tight quarters, the maximum class size was four. It was decidedly inconvenient. I dreamed of something larger.
When we bought a country house in upstate New York, all my kitchen dreams stayed intact—and unfulfilled. We loved the rambling old 1790s property. But it had a small kitchen, not much bigger than the one in the city. We could have enlarged it, but it would have been expensive, and there were two old maples outside the kitchen window that we could not bear to cut down.
The kitchen is not only small, it is completely outdated. We have never bothered to change the countertops, some wooden and some tiled, or the cabinets, which are probably 50 years old. We have changed only what we had to, the refrigerator, the stove, and the dishwasher, as the need arose. The GE, Thermador, and Kenmore appliances all have their quirks and eccentricities, but they are all ready to give up their lives in loving service. There is not enough counter space, so it's difficult to plate four courses each for 15 people. But still I do it, balancing plates on top of the toaster, the coffeemakers (always two, one for regular and one for decaf), and the microwave oven. I've realized that a dream kitchen isn't absolutely necessary: It's your aspirations for the food that make a kitchen come to life.
I collect platters from all the places I've traveled to, and these are stored around the house, in the laundry room and in old cupboards and sideboards in the dining room and parlor. As for spices and seasonings, do not even ask. My husband and I cook every day, and we cook foods from all over the world, so our cabinets have to hold more than the usual supply of spices, seasonings, and dry goods. I try to keep them organized and separated. Indian spices fill one whole revolving corner cabinet: coriander, cumin, turmeric, mustard seeds, fennel seeds, nigella seeds, fenugreek seeds, asafetida, varieties of black pepper, ground chiles of various sorts. I pile jar upon jar, always afraid that when I open the cabinet, the tiered spices will come tumbling down—which has happened often enough. Now, I open the door with one hand and protectively shield my head with the other in case the avalanche starts.
Then there are the Japanese noodles and nori and bonito flakes, the Thai seasonings and coconut milk, the Indonesian soy sauces, the Chinese rice wine and dried shiitake mushrooms, the Italian pastas and tomato cans, the dried rosemary, sage and thyme and Provençal herbs—and how can I not stuff in the cookies that my American husband loves?
How do I cook at all? You might well wonder. But kitchens shape the cook. In my case, my cooking has become all about organization and the very careful timing of every dish. Some foods, like curries and lightly stewed eggplants, are made ahead of time and refrigerated. Steamed dishes, such as old-fashioned British puddings, are made in the laundry room, which has a long counter normally used to fold laundry. Stir-fries are limited to dinners with fewer guests. For larger gatherings, the rice goes on five minutes before the guests are expected; it will take ten minutes to poach the salmon in the Bengali mustard sauce that has already been made and to reheat the okra soup on low; the lamb warming in the oven must be removed in 20. The blanched green beans resting on roasting spices should cook three minutes, no more. I have several timers going at every big dinner party. It is not the kitchen of my dreams, but I make it work for me. After all, it is the food that comes out of the kitchen that matters most.