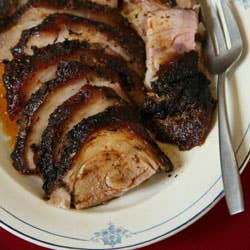 After a winter filled with snow, ice, snow, and more snow, the prospect of a Caribbean getaway is shinier than ever. Whip up a pitcher of CCR cocktails or maybe a Banana Daiquiri, put on some boat music, and sit down for an early supper at the sunniest part of your dining table. With our menu — crisp-roasted pork surrounded by bright flavors like garlicky tostones, rich calabaza-studded rice, and a sweet pineapple sorbet — it's almost as good as booking a plane ticket.
You can flatten the tostones between two pieces of plantain skin, but the bottom of a small pan or a flat pot lid will work, too.
Fungi (Caribbean "polenta") is a traditional accompaniment to fish and many stews and soups.
This luscious, Caribbean-inspired preparation for garlicky roast pork works especially well with the cut known as picnic shoulder, which gives you crisper skin than the more popular boston butt.
Calabaza, also known as West Indian, Cuban, or Caribbean pumpkin, is a large hard-skinned squash available in the U.S. at Hispanic markets.
The sweet but tangy taste of this cool treat is perfect after a heavy meal. Allow this sorbet to chill in the freezer a day before serving to improve its flavor.