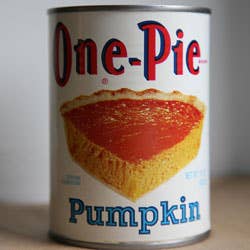 Culture
Mystery in a Can
SAVEUR food editor Todd Coleman examines the pumpkin pie dilemma—fresh or canned?
I was at a pick-your-own pumpkin patch in Virginia when the idea struck: wouldn't it be great to bake a few pies using fresh pumpkin instead of canned? I loaded a couple of promising specimens into the trunk of my car, took them home, roasted them, and pureed the flesh into a smooth filling. The pies were horrible: the inside was watery and fibrous and had none of the rich, custardlike texture I loved. Pushing away my plate, I swore my eternal allegiance to pumpkin in a can.
So, why is the canned stuff so much better than the real thing? "Jack-o'-lantern pumpkins were bred for eye appeal and have an iconic harvest look," says John Ackerman, a third-generation pumpkin farmer in Morton, Illinois, which bills itself as "the Pumpkin Capital of the World". "But they don't have a thick flesh, and they weren't bred for taste." The familiar-looking, bright orange pumpkins you see on windowsills at this time of year belong to one of two predominant showpiece varieties: appalachian or magic lantern. By contrast, the pumpkins most canneries use are of a type called dickinson. Like its bigger cousins, the oblong dickinson belongs to the Cucurbita family of squashes, but it's not much to look at, with its shallow ribs and dull yellow shell. "For cooking, though, it's hard to beat," says Ackerman.
You won't find dickinsons at your grocery store, but ask for them at farmers' markets, where they're often sold with other squash. "You might also try an amish pie or a winter luxury," says Ackerman, referring to two other kitchen-friendly pumpkin varieties. "They all make wonderful pie."