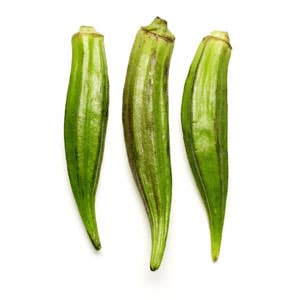 Techniques
Okra
Whether it's pan-fried or stewed with other vegetables, okra is a favorite across Texas.
You either love okra or you hate it. That most Texans stand firmly in the first camp is proof positive that the state is as much of the South as it is of the Southwest. All across Texas but particularly in the eastern part, you find okra in gumbos and in vegetable stews, just as you do in Louisiana and other okra-loving locales, where cooks rely on the soup-thickening properties of those mucilaginous green pods. Okra also appears in Texan potluck spreads and on cafeteria steam tables, sliced and stewed with tomatoes or thrown together with summer corn and pimiento in succotash.
Ask a lot of Texans how they like their okra best, though, and they'll tell you fried. Cooks slice the pods into chubby rounds, roll them in cornmeal, and float them in bubbling oil until they're crisp; the high heat transforms the raw okra's sticky interior into a creamy mouthful. Strewn with salt, this deep-fried version is a close compadre of ice-cold beer at many a Texas roadhouse and neighborhood bar. Chefs at upmarket places often opt for grilling or pan-frying. "Our pan-fried okra is so popular that the dish has taken on a life of its own," says Sharon Hage, of the Dallas restaurant York Street, who serves it over a tangy green tomato salad. "We have it only in summer, but people ask about it all year."
Of course, Hage is just affirming a bedrock Texan truth: okra is synonymous with summer. This cousin of cotton thrives in the dog days of the season, and it has long been a staple of kitchen gardens, where home cooks grow prolific local cultivars. "Heirloom varieties, like hill country red, that have a red or burgundy color have become popular recently," says David Rodriguez, a horticulturist with Texas A&M University. And then there's longhorn okra, a variety that produces pods on a truly Texan scale—up to a foot in length, in some cases—with elegantly tapered tips resembling the horns of a steer.
In the off-season, Texans reach for pickled okra: it holds its crunch, and the astringent vinegar does away with the vegetable's characteristic ooze. Some Texans buy jarred versions of the stuff; Talk O' Texas, the 60-year-old San Angelo-based company, sells more than 300,000 cases a year. But many still put up their own, just as Texas's first culinary ambassador to the White House, Zephyr Wright, used to do for Lyndon Johnson and his family in the 1960s. That way, they can have a firm, green bite of summer all year round.