One Ingredient, Many Ways: Apples

As someone who lives in a different place from where I grew up, I identify with the apple. Michael Pollan writes in his book, The Botany of Desire, that "Like generations of other immigrants before and after, the apple has made itself at home here [in America]. In fact, the apple did such a convincing job of this that most of us wrongly assume the plant is a native." I certainly did. After all, I guzzled apple cider at the farmers' market in suburban Chicago as a kid, baked my first apple crisp as a college student in Oregon, discovered the importance of apples eaten with cheddar cheese while living Vermont, and have crunched my way through at least a dozen types of apples since moving to New York City almost a decade ago.
But like Italy with tomatoes, which have become central to large swaths of the country's cuisine despite not arriving there until the 16th century, the apple is America's most defining culinary settler. Native to Central Asia, apples arrived in North America some four centuries ago. Today, only 15 varieties of apples account for 90 percent of all apple sales in this country. It's a tiny fraction of the literally thousands of varieties that have flourished here over the decades, but still an impressive display of biodiversity. How many other fruits can claim that much attention and shelf space?
This time of year, when apple season is officially underway and weekend excursions to the market have left me with an accidental abundance of the crisp autumn fruit, I turn to recipes familiar (apple pie, baked apples, mulled cider) and new (blackberry and apple cake, curried apple soup) to make my way through. Somehow, whatever I make with them and wherever I make it, apples always taste like home.
Sweet Apple Recipes
Spiced Apple Strudel
Apples spiced with cloves, nutmeg and cinnamon are layered into phyllo-dough strudel.
Apple Cranberry Chutney
Two of fall's most classic flavors combine in a thick chutney.
(Apple) Mint Jelly
Granny Smith apples are flavored with fresh mint in for sweet and autumnal jelly.
Apple Bundt Cake
Jonagold, Empire, and Ida Red apples work perfectly in this cinnamon-spiced cake.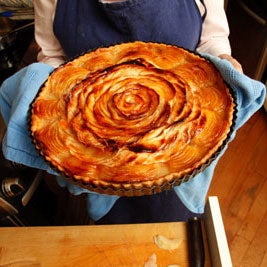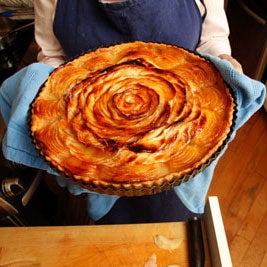 By carefully layering the apples you can create a beautiful rose pattern in this elegant fruit tart.
French Apple Tart
A layered rose-inspired tart is as beautiful as it is delicious.
Baked Apples with Caramel Sauce
Luscious caramel sauce is the only thing that can improve already-delicious baked apples.
Lavender Tarte Tatin
Lavender buds perfume caramelized apple tarte tatin.
Apple Pie
Buttery, double crusted, and filled with sweet-tart apples, this American classic is just perfect.
Blackberry and Apple Cake
A layer of juicy blackberries top Granny Smith apples for a moist cake.
Apple Brown Betty
A simple topping of bread crumbs tossed with melted butter covers this sweet and tangy dessert.
Apple Pandowdy
At Boston's Durgin-Park, squares of buttery crust are pressed into a simmering apple filling partway through cooking to soak up the spiced sauce in this old-school dessert.
Apple Cider Cinnamon Ice Cream
Apple cider and heavy cream serve as the base for cinnamon-infused ice cream.
Flodni (Apple Walnut and Poppy Seed Pastry)
Apple jam, walnuts and poppy seeds get layered into this traditional Hungarian pastry.
Savory Apple Recipes
Cold Curried Apple Soup
A sprinkle of curry adds depth to creamy apple soup.
Fennel, Sunchoke and Apple Salad
Three of autumn's star ingredients join together in this crunchy, refreshing salad.
Smoked Gouda and Apple Butter Sandwich
Simple and satisfying, this two-ingredient sandwich pairs smoky cheese with tangy apple butter.
Country Style Sausage with Fried Apples
Sweet fried apples are the perfect side for homemade sage sausage.
Goose Liver and Apple Toasts
Apples sauteed in goose fat complement goose liver on toast.
Winter Squash and Apple Soup
Apple lends a surprising sweetness to winter squash soup.
Selyodka Pod Shuboy (Layered Herring Salad)
Grated Granny Smith apple serves as one of many layers in this composed salad.
Duck with Apple and Cherry Sauce
Top duck breasts with a sweet apple and cherry sauce.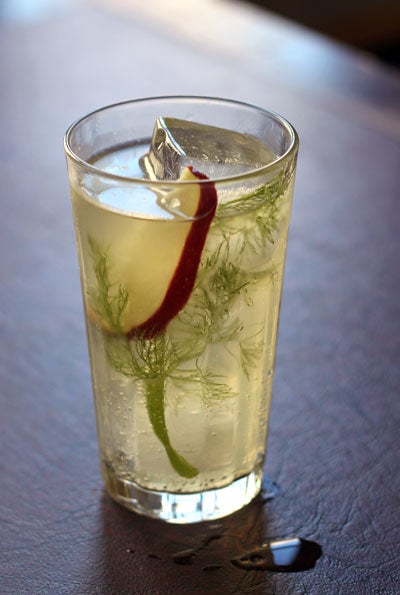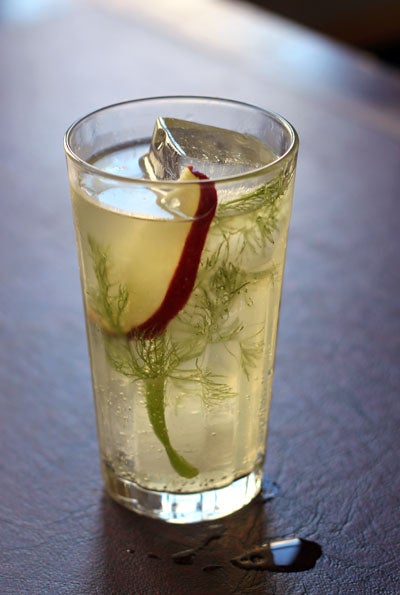 Fennel Apple Spritzer
This nonalcoholic sparkler is decidedly sophisticated: fennel's light, anise flavor is tempered by sweetly autumnal apple juice. See the recipe for Fennel Apple Spritzer »
Apple Drink Recipes
Szarlotka (Polish Apple Pie Cocktail)
Chamomile-infused vodka, apple cider, and ice are all you need for this refreshing cocktail.
Chilled Cider Punch
Combine apple cider, hard cider, and ginger beer with whiskey, citrus, and spices for a tasty fall punch.
Mulled Apple Cider
Hot apple cider infused with cloves and cinnamon – an unbeatable compbination.
Fennel Apple Spritzer
Fennel-infused simple syrup sweetens this non-alcoholic spritzer.
PLUS
Find out which apples are best for baking, and which fall apart under the heat of the oven in our guide »
Leah Koenig is a freelance writer and author of The Hadassah Everyday Cookbook: Daily Meals for the Contemporary Jewish Kitchen