One Ingredient, Many Ways: Asparagus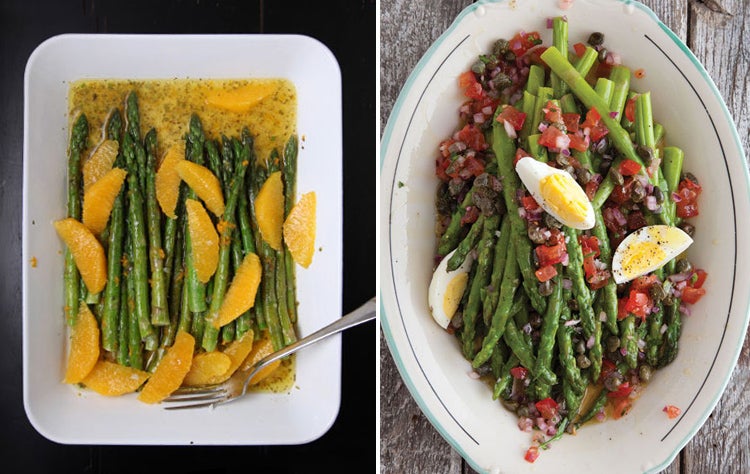 Proust's most famous culinary passion may have been the madeleine, but asparagus equally captured his imagination. Describing the vegetable in Swann's Way, he wrote, "my greatest pleasure was the asparagus, bathed in ultramarine and pink and whose spears, delicately brushed in mauve and azure, fade imperceptibly to the base of the stalk—still soiled with earth of their bed—through iridescences that are not of this world."
I have little doubt that these thoughts first came to Proust in the spring, since asparagus is one of the season's most celebrated vegetables—watching a stalk push determinedly through recently-thawed soil seems to capture the essence of the season so perfectly. And its tender snap, bright hue, and fresh, grassy flavor make it a perfect companion for other springtime produce.
Like many kids, I did not trust the asparagus growing up—it was invariably served mushy and waterlogged from a too-long sweat in a steamer. I grew to love it once I discovered roasting, which renders the spears blistered and sweet, and now I experiment with preparing it in all kinds of ways—like topping it with juicy citrus segments or decadent caviar, pairing it with pan-roasted salmon, or tossing chopped spears into a frittata or a pasta with morels, spaghetti and cream.
Asparagus also shines uncooked, like in the bright asparagus mint slaw I developed while planning for an early spring picnic. Untouched by heat, the crunchy slivers are tossed with sharp radishes, bitter mint and a splash of vinegar, making a dish that's simple enough to throw together for lunch, but delicious enough to warrant Proustian levels of obsession.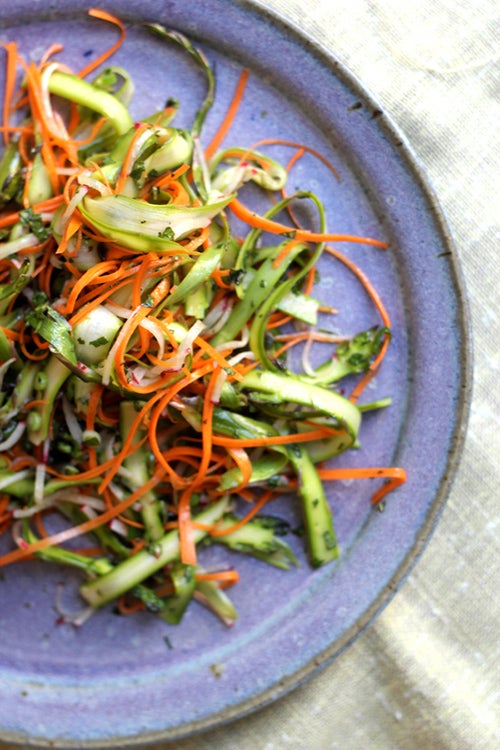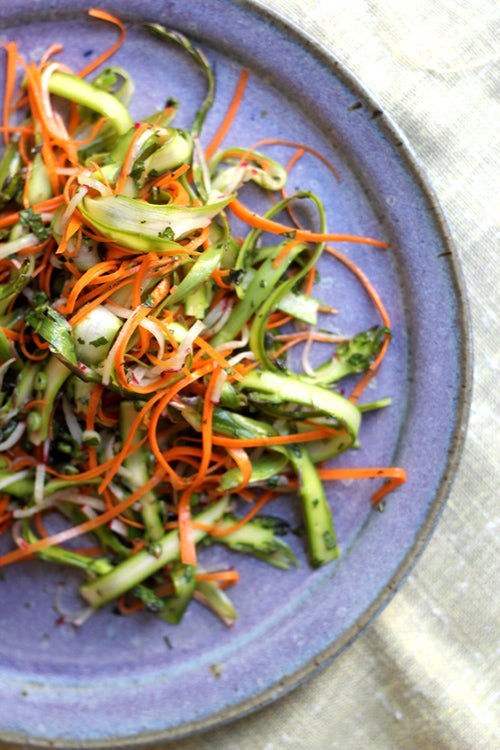 Raw asparagus, carrots, and radishes get tossed with fresh mint and vinegar in this bright and crunchy slaw. Get the recipe for Asparagus Mint Slaw »
SIDES
Asparagus with Hollandaise Sauce
An unorthodox method for making hollandaise makes this classic preparation a snap to put together.
Asparagus Soup
This dish transforms asparagus, butter, cream and stock into a thick and creamy soup.
Asparagus with Ostera Caviar
Give asparagus the upscale treatment by topping it with mousseline and caviar.
Catalan Asparagus Vinaigrette
A deceptively simple mixture of olive oil, white wine vinegar, chopped parsley, and crushed tomato tops fresh spears in this bright salad.
White Asparagus with Olive Oil Sabayon
A perfectly emulsified sabayon makes a delightful topping for steamed white asparagus.
Skillet Asparagus
There is no need to preheat the oven or boil a pot of water in this simple, pan-roasted side dish.
Asparagus with Citrus and Oregano
Bright segments of orange and zesty oregano flakes top this simple but flavorful side.
Asparagus Shandong Style
Chopped asparagus is flavored with red chile oil, sesame oil and soy sauce in this traditional Chinese banquet dish.
Asparagus and Rice Saute
Turn a batch of botched rice into a tasty side by stir-frying it with asparagus and garlic.
Asparagus Ragout with Cherry Tomatoes and Chervil Beurre Blanc
White asparagus is particularly delicious when mixed with cherry tomatoes and a spicy chervil sauce.
MAIN
Trout with Morels and Wild Asparagus
Serve this cream-enriched trout dish with wild or super-skinny asparagus spears.
Mother's Asparagus Luncheon Dish
Cream, butter, bread crumbs, and cheese make this asparagus casserole a deliciously decadent side dish.
Salmon with White Asparagus and Mashed Potatoes
Pan roasted salmon is topped with white asparagus spears in this springtime dish.
Morel and Asparagus Spaghetti
Dried morels are rehydrated in boiling water that is then used to cook spaghetti—infusing the pasta with an earthy, mushroomy flavor.
Asparagus Frittata
Chopped spears of asparagus add green, fresh flavor to an eggy frittata.
Fancy Sandwich Loaf
This retro party loaf transforms asparagus, mushrooms, pistachios, baked ham, cream cheese and bread into a sliceable sandwich.
Stuffed Bresse Chicken with Asparagus
This French-inspired chicken dish is filled with spring vegetables, including asparagus.
Classic Eggs Sardou
New Orleans residents eat this hollandaise-covered egg dish, which gets served with fried asparagus spears.
Leah Koenig is a freelance writer and author of The Hadassah Everyday Cookbook: Daily Meals for the Contemporary Jewish Kitchen.