One Ingredient, Many Ways: Basil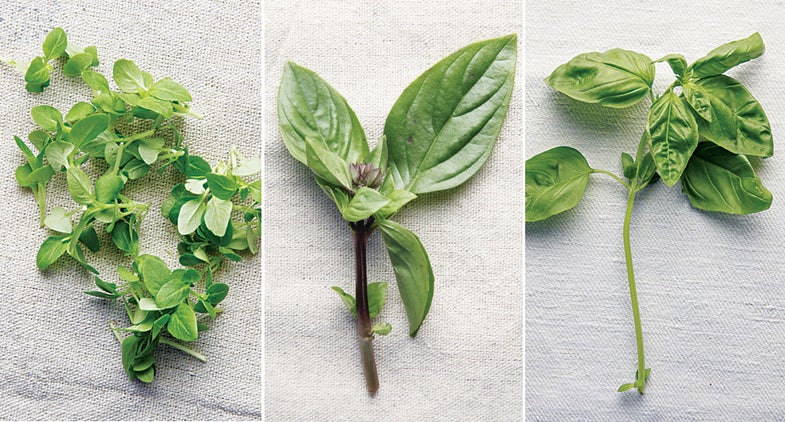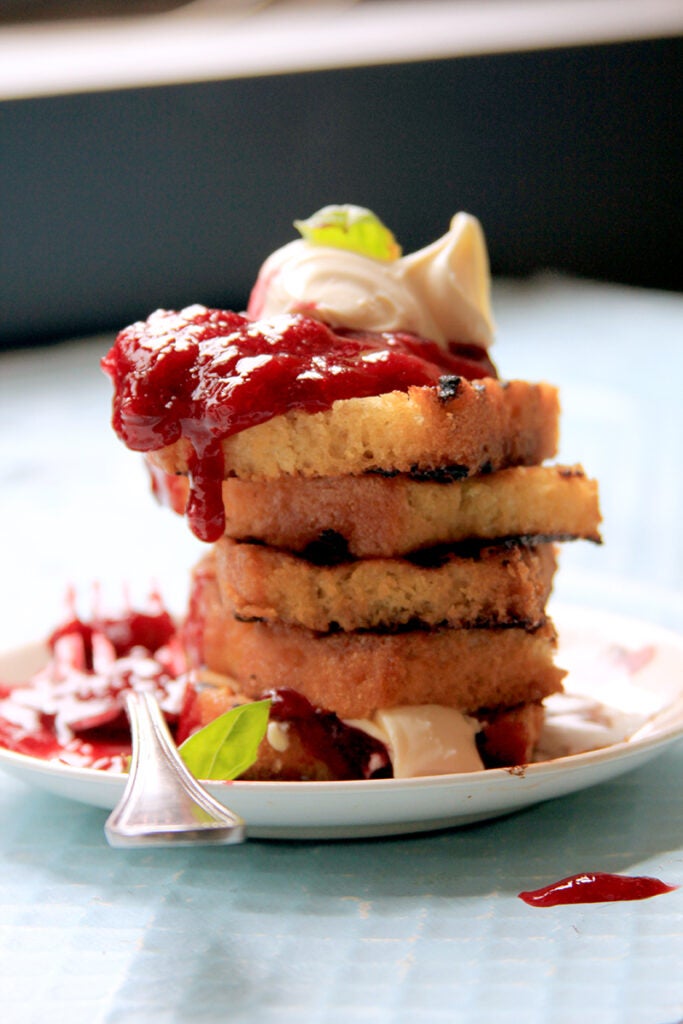 Grilled Pound Cake with Basil-Plum Compote
The best of summer comes together in this satisfying dessert of grilled pound cake topped with a fruity, herbal compote. Get the recipe for Grilled Pound Cake with Basil-Plum Compote »
Basil is the quintessential garden plant: equally happy to sprawl out over the expanse of a walled-in plot or flourish in a box on the window sill. And it's the perfect summer herb: its bright, slightly bitter flavor perfectly complements other hot-weather produce, from raw tomatoes to grilled zucchini to roasted red peppers. As a teenager, I'd spend hours plucking individual basil leaves off the bushels of sprigs my friends harvested from their backyard. We were making pesto by the gallon, and over the course of a few hours' work, with Robert Plant's sultry whine belting out of a portable boom box, everything—our hands, our t-shirts, our suntanned legs—would become steeped and stained with the plant's green color and rich perfume.
In America, basil's floppy, velvet-soft leaves are most closely associated with Italian cuisine. But the herb, a member of the mint family, has more than 40 different varieties that range in flavor from mild and floral to pungent and spicy. Citrusy lemon basil and eggplant-colored purple basil have begun to show up regularly at farmer's markets, as have varieties commonly used in southeast Asian cuisine like Thai basil, which has deep maroon stems and a licorice flavor.
For certain recipes, particularly long-cooking soups and sauces, I turn to dried basil. But I prefer to work with the fresh stuff whenever possible, ripping it with my fingers, chopping it finely, or slicing it into thin ribbons to release its fragrant oils. In recent years, I've become particularly enamored with basil's sweet side, pairing it with deep-flavored fruits like strawberries and peaches for desserts and cocktails. With that in mind, I developed a basil-plum compote to serve over slices of grilled pound cake. The sweet stone fruit benefits immensely from a hint of vibrant, herbal flavor—together, they make a syrupy, complex compote that would also be delicious spooned over ice cream, yogurt, or granola.
See the recipe for Grilled Pound Cake with Basil-Plum Compote »
Sweet Basil Recipes
Basil Gelato
Sweets like a creamy gelato bring out basil's floral notes.
Food 52: Wild Berry Basil Panna Cotta
This creamy, quivering dessert gets a boost of flavor from fresh berries and basil.
Martha Stewart: Strawberry Shortcake with Basil
A summer classic is amplified by a basil-infused cream.
Savory Basil Recipes
Classic Basil Pesto
There are a million variations on the pesto theme, but this version sticks to the basics: basil, parmesan, pine nuts, and olive oil.
Summer Panzanella
This Italian bread and tomato salad gets a bit of floral, spicy flavor from fresh basil.
Sweet Miso Corn Cakes with Basil Parsley Pesto
A chunky basil and parsley pesto makes the perfect topping for summery corn cakes.
Grilled Eggplant with Basil Vinaigrette
A simple grilled vegetable dish turns memorable thanks to a fragrant, caper-spiked basil vinaigrette.
Pizza Margherita (Tomato, Basil, and Mozzarella Pizza)
Like all classic Neapolitan pizza, this version is topped simply with sauce, thinly sliced fresh mozzarella, and fresh basil leaves that wilt in the heat of the oven.
Italian Beef Sandwich
Dried basil enhances the spice mixture that gets rubbed onto the beef in this Chicago classic.
Eggplant Parmesan
This classic southern Italian dish uses fresh basil to add a punch of flavor.
Grilled Montauk Squid with Thai Basil Salad
Thai basil pumps up the dressing for the salad that tops this grilled seafood dish.
Hor Mok (Steamed Thai Fish Custard)
Steamed in banana leaves, this flavorful, creamy fish dish is flavored with basil and kaffir lime leaves.
Green Mango Salad with Grilled Beef
Torn Thai basil and cilantro leaves flavor a refreshing and hearty mango and beef salad.
Snapper with Rosemary Basil Oil
Top this caraway-scented seared snapper with olive oil infused with rosemary and basil.
Cold Pea and Basil Soup
Plenty of basil adds punch to a refreshing, vibrantly green summer soup.
Grilled Chicken with Red Onion Jam
Grilled chicken marinated with basil, rosemary, thyme, and parsley tastes especially delicious topped with a sweet and tangy onion jam.
Basil Drinks
Basil Julep
Fresh basil replaces the more traditional mint in this summery julep.
Sotto Chinotto
Thinly sliced basil leaves add color and herbal essence to this refreshing Italian cocktail.
The Green Thumb
Muddled basil and tarragon add floral depth to an elegant champagne-topped drink.
Leah Koenig is a freelance writer and author of The Hadassah Everyday Cookbook: Daily Meals for the Contemporary Jewish Kitchen.